Leading Scottish charity Art in Healthcare is to launch a newly commissioned limited edition print entitled South Tower Yellow Crane to mark the opening of the new Queensferry Crossing.
All proceeds from the sales of the print will support the charity's work.
The print, created by artist Kate Downie, will be launched at the charity's fundraising exhibition Bridges to Wonder. The exhibition will take place from 2-5 June 2017 at Arusha Gallery in Dundas Street and is an opportunity to purchase works of art by Scottish artists.
Art in Healthcare is an Edinburgh-based charity which aims to bring original and contemporary art to hospitals. The organisation has added 1,500 works of art to hospitals, care homes and treatment centres. They also run art workshops for people with health conditions.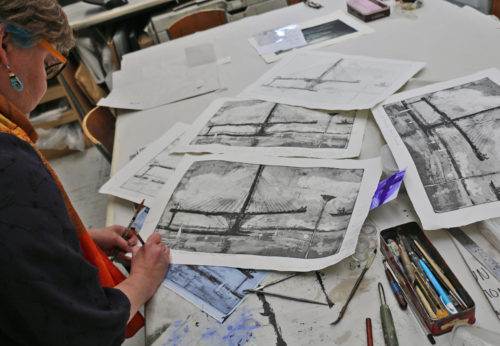 Commenting on the new bridge inspired her to create a unique image, Kate Downie said : "The Queensferry Crossing is a beautiful bridge-to-be. Already it inspires national pride, wonder at its scale and delight in the poetic way the light changes across its cables to all who view it from the edges of the Forth."
Alan Borthwick, BTO Solicitors chairman, added: "Sponsoring Bridges to Wonder is a great opportunity for BTO to support Scottish artists and Art in Healthcare in the creation of inspiring environments that will have a positive impact on the wellbeing of patients in hospitals, care homes and treatment centres."
The exhibition, including South Tower Yellow Crane will be at Arusha Gallery between 10am-5pm on June 2-5 2017.