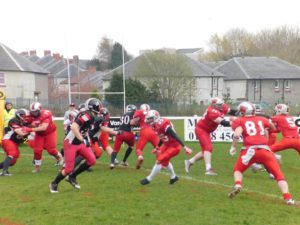 Edinburgh Wolves first home game of the season could decide the ceremonial title of 'Scottish Champions'.
Edinburgh Wolves American Football will play their first home game of their BAFANL (British American Football Association National League) Premiership season this weekend at Peffermill Playing Fields.
The Wolves have started the season with two games on the road, one in East Kilbride and one in Sheffield.
The match up in East Kilbride ended as a tie, a rarity in American Football after a last-gasp comeback from the hosts.
This weekend is the return fixture to try and separate these teams and decide who is  the 'Best team in Scotland'.
The Wolves will look to make home field advantage and Head Coach Don Edmonston and his team will have been through the game film after April's matchup.
. The Wolves came away with two interceptions and solid defensive play until later in the game when East Kilbride finally found a way through.
East Kilbride Pirates also travelled to Sheffield for their second game and came away with a win and having not been beaten by another Scottish team in over eight years will be looking to hold on to the crown as the "Kings of Scotland."
The game takes place on Sunday 7th May at Peffermill Playing Fields with Kick Off at 2:30 pm. Entry to this game is free, so this is a great opportunity for fans and those with any interest level to come along and enjoy the game.