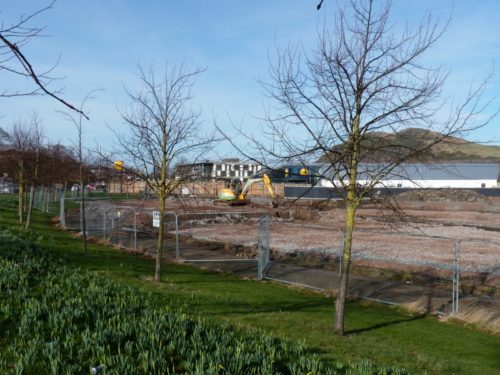 Building and rebuilding, it seems to be going on all around us. Things are stirring again after the Great Recession.  I cycled through the Craigmillar estate here in Edinburgh this week and watched the "yellow goods" – as we must call bulldozers these days – crawling all over the derelict landscape, preparing it for 1800 new homes, a new high school and a proper town-square.  Next week, a new Lidl supermarket will open its doors.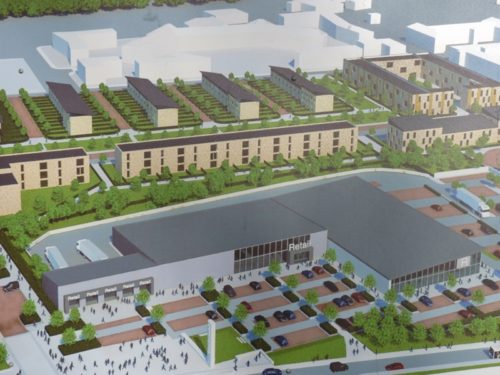 Elsewhere in Edinburgh, the grim concrete box at the top of Leith Walk is being torn down and a new, and hopefully improved, shopping centre and hotel will emerge. They are even starting to build flats again down on the waterfront.
And it's happening across Scotland. This week in Dundee, the strange boat-like structure of the new Victoria and Albert Museum of Design came out from behind its hoardings.  In Aberdeen, work is underway on the new by-pass and a beginning is being made on a second harbour. In Inverness, a new university campus has just been finished and there are plans for a revamp of Falcon Square and the Eastgate shopping centre.  We are all catching up with Glasgow which has already redeveloped its waterfront. It's now adding a cinema and shops on the site of the old Meadowside shipyard and a new pedestrian bridge across the Clyde.
A lot of this new activity is inspired by a series of some 30 "City Deals" being rolled out across the UK, in which the Westminster and local governments combine with private companies to fund building projects which, it's hoped, will be engines of growth and generators of new jobs.  They call it "investing in infrastructure" and we shall no doubt hear more about it in the Chancellor's budget next week.  Why we didn't think of this nine years ago to avoid the Great Recession only the Tories can explain.
Perhaps it was to cut taxes on the rich. But now this is back in fashion, at least as far as local council tax is concerned.  In England it's going up by 5 per cent, in Scotland, on average 3 per cent – with more for those living in large houses in the wealthy parts of town.  Curiously, 8 of Scotland's 32 local councils are continuing to freeze the council tax and they are all Labour controlled. What's going on ?  A scary series of local elections, on 4 May, that's what. And it will be instructive to see what the voters think of paying more tax to have better public services.
Certainly the potholes are getting worse in all the public services. This week the NHS missed its treatment time targets yet again. The education secretary was under pressure to provide more support staff for his education reforms. The police were talking of cutting back the number of police officers. Highland Council is introducing a charge to collect garden waste.
Everyone is looking for "efficiencies" in the public services. The police are going to use civilian staff in the backroom to free up officers for the front line.  Senior  courtroom staff are suggesting more on-line court hearings to focus cases on the points in real dispute and avoid witnesses having to attend wasteful sessions.  The chief medical officer was talking of "realistic medicine" rather than an aggressive and expensive hospitalisation and drug treatment programme.  Some of these changes are good in themselves, but whether they can be enough to plug the gaps in the public services I doubt.
As I write, the Prime Minister Theresa May is about to address the resurgent Conservatives at their spring conference in Glasgow.  But she's already leaked much of her speech in media interviews and she's warning Scotland not to make Brexit a pretext for leaving the United Kingdom.  She's confident she can get a deal with the EU that will "be good for all parts of the UK, including Scotland."  Nicola Sturgeon is not so sure and she is saying that a second referendum on independence is becoming ever more likely.
Finally, did you ever head one of those old leather footballs ?  I did once and it almost knocked me out.  There's now growing concern that constant training with those heavy footballs has caused men now in their later years to develop dementia.  Billy McNeil's wife, Liz, this week spoke out about her husband's battle with dementia which she puts down to all that heading when he was one of the stars of Celtic back in the 1960s.  Even though footballs are much lighter these days, we are now wondering whether we should follow America's example and ban heading in all games involving children under the age of 12.
Sadly, she was speaking as Celtic was celebrating the 50th anniversary of its historic 2-1 win in the European Cup final against Inter Milan.  Her husband was one of those "Lisbon Lions." Another was Tommy Gemmell, who scored an unforgettable goal that day. Alas he has just died this week at the age of 73 after a long illness (not dementia.) So there, in the same 50 year old snapshot, we have the glories of football and its agonies.