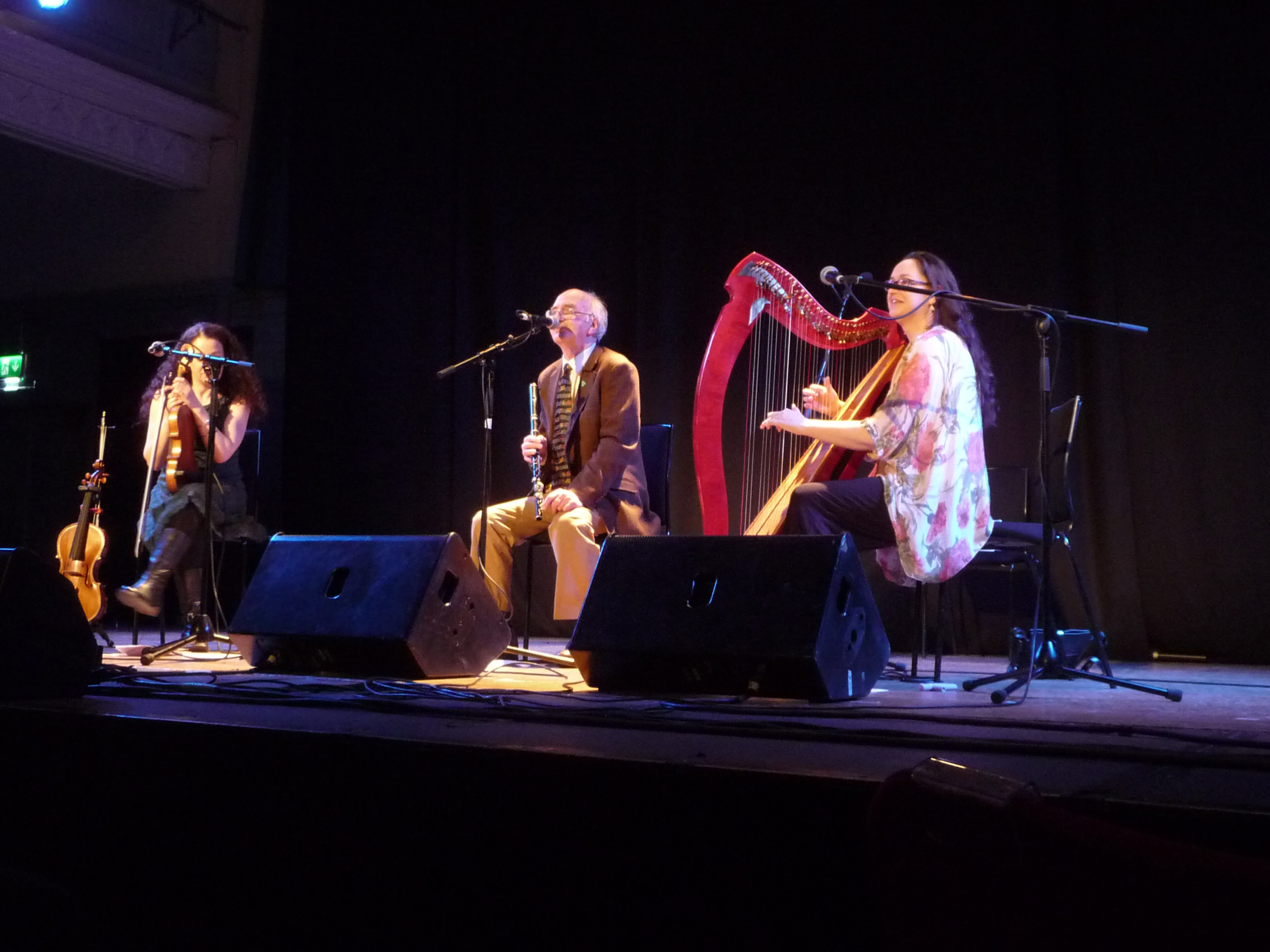 Cathal McConnell has never played in the Traverse Theatre's Monday Music concerts before.
So in the droll style that veteran folk group Boys of the Lough's fans have become familiar with over the years, the group's founder, flautist and singer says that when he brings his trio to the theatre's bar on Monday, 3 April 2017, he'll be appearing there for the first time.
McConnell's apparently absent-minded statements of the obvious have been endearing him to audiences across the United States, Europe and the UK since Boys of the Lough got together in 1968.
The 70 odd year-old whose vast knowledge of songs and tunes and his willingness to
share them with fellow musicians have made him a legend on the folk scene, said "Originally there were three of us. We played a gig in Belfast supporting Peggy Seeger & Ewan MacColl, who were big stars at that time, and they liked what we were doing so much that they invited us to tour England as their support act."
Early in the tour McConnell and his bandmates, fiddler Tommy Gunn and singer and bodhran player Robin Morton were asked to do a television broadcast. Before the cameras rolled, the presenter asked what they were called and when Morton rattled off their individual names, the presenter said, "No, no, you need a band name." Gunn came up with Boys of the Lough on the spur of the moment and it stuck.
Within a few years, with Aly Bain having replaced Gunn and singer-guitarist Dick Gaughan having appeared on their first album before moving on, the Boys were selling out venues including the Usher Hall in Edinburgh and the Royal Festival Hall in London as well as making the first of, McConnell estimates, seventy to eighty American tours.
"We weren't the first folk band but when we started out we were regarded as new and exciting, and audiences really took to us," says McConnell. "America especially liked our mixture of Irish and Scottish music and for a while it seemed like we were over there all the time."
Surviving a series of personnel changes that saw Aly Bain leave in 2002 after thirty-two years, Boys of the Lough have now released twenty-four albums. No decision has been made about their future but with the four musicians who recorded the most recent album, 2014's The New Line, living in three different countries and busy with separate projects, Edinburgh-based McConnell says it can be difficult to get everyone together.
He's not ready to retire, however, and having won a Herald Angel award for his Cathal McConnell & Friends concerts at the Edinburgh Fringe in 2015, he is enthusiastic about continuing to play with a trio that's called unofficially the Boy and Girls of the Lough.
He said : "Kathryn (Nicoll, fiddle) and Karen (Marshalsay, harp) are great players and I'm really enjoying working with them. I don't like to play it safe. I like to change the repertoire around and keep things fresh but the main thing when you get up onto a stage is you have to communicate with the people who have come out to hear you."