Senior Pupils introduce their school as a Festival venue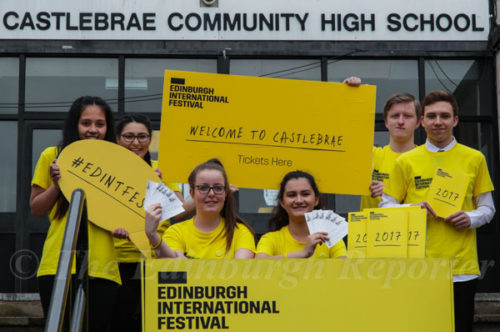 Pupils at Castlebrae Community High School, in the Craigmillar area of Edinburgh, today hosted their own launch of this year's International Festival.
As part of the International Festival's residency with Castlebrae, students hosted the event in the school's gym hall, inviting their peers to learn more about the 2017 Festival. This year the school will be used as an official Festival venue, where award-winning hip-hop dance company Boy Blue Entertainment will premiere its bold new dance show Project R.E.B.E.L on 19 & 20 August.
At today's event, senior pupils told the school all about shows at this year's Festival and hosted a Q&A session with International Festival Director, Fergus Linehan. Pupils also worked with Appetite Direct, the Official Catering Partner of the International Festival, to research and develop ideas for a menu of canapés served at the event. Appetite Direct will also work with the students over the coming months, offering guidance and support as the pupils prepare to run a café at the school during Festival performances in August.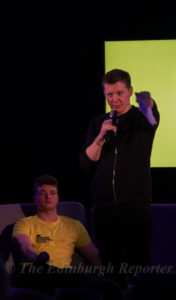 The International Festival's three-year arts residency at Castlebrae is a partnership between the school, the Festival and the City of Edinburgh Council. Over the last three years, pupils have been learning about all aspects of the International Festival through workshops, bespoke mentoring and work experience programmes. These have highlighted the varied professional skillsets required in the delivery of events like the International Festival and included a specially developed Festivals & Events Management module which contributes towards pupils National 5 qualification in 'Creative Industries'. Now the students have the chance to put their experience into practice, as they assist the Festival team in planning and running the venue at their school in August. In the run up to the premiere of Project R.E.B.E.L, Boy Blue Entertainment will also run workshops at Castlebrae, introducing pupils to their dynamic dance style.
Today's launch also included performances from two professional musicians, soprano Emma Morwood and pianist Andrew Brown, who gave a taster of another International Festival project which Castlebrae pupils are involved in this August – an introduction to opera which sees the Festival produce a potted version of Puccini's La bohème for up to 500 senior school students from across Edinburgh.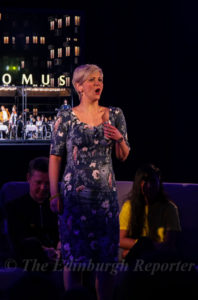 International Festival Director Fergus Linehan said:  "We want to get everyone excited because pupils are going to be in the thick of the action helping to manage the venue – as part of the front of house team, catering staff, event managers, technical support – you name it, they'll be looking after it " said Fergus. "The students at Castlebrae have worked really hard to make today a success, and have put a lot of energy into working with the Festival team to learn more what we do and how to present events, not just on stage but across all areas. I'm really looking forward to seeing Boy Blue Entertainment in action here come August and to welcoming festival audiences to Castlebrae"
Castlebrae Community High School head teacher Norma Prentice said: "Our partnership with the International Festival has provided so many inspiring, high quality and unexpected experiences for our young people. We're incredibly excited to be hosting events at Castlebrae in August – it's fantastic for our pupils to play a direct part in making the Festival happen. They took their first step towards that today, producing and presenting their own Festival Launch – it's great to see them putting into practice skills learned during the partnership".
Castlebrae Community High School pupil Maria Husain said: "The Festival has been a great experience and mentoring has benefited me in more ways than I can explain with thinking about life and my future; it has made me more confident in and out of school" and fellow pupil Alan Swinton added: "Working with the Festival has changed my perception of the arts industry. I really enjoy going to things I didn't expect to like and now I feel like I'm part of the Festival team".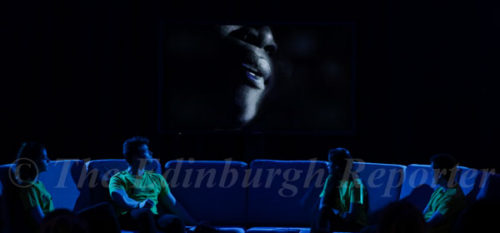 Councillor Richard Lewis, the city's Festivals Champion, said: "The Council's partnership with the Edinburgh International Festival has provided a fantastic creative learning opportunity for our Castlebrae pupils. At seventy years old, it is clear the Festival continues to inspire new generations of artists and Festival audiences. The collaboration between the Council and the Festival is year-round and plays a crucial outreach role in local communities such as Craigmillar. This summer's performances at Castlebrae are not to be missed."
For more information about the partnership with Castlebrae Community High School, please visit the International Festival website. Tickets are now on sale for Project R.E.B.E.L and all other International Festival events. For more information and to buy tickets visit eif.co.uk