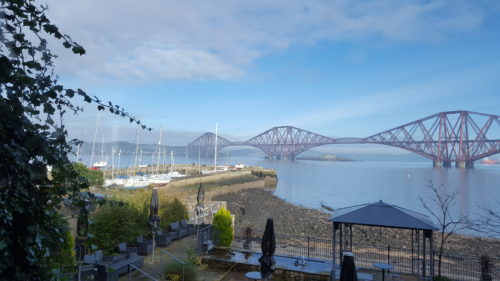 Orocco Pier, 17 High Street, South Queensferry EH30 9PP
The three bridges crossing the River Forth at Queensferry were beginning to emerge from the mist. It was a stunning day with a cloudless, blue sky.
There was, however, a chill in the air – it was mid-February – and after a walk on the beach and around the quaint harbour a warming cuppa was called for.
I've been at functions in The Orocco Pier before but never dropped into the restaurant/café.
It is stylish, has morning papers and a live TV news feed, comfortable seats and a sensational view. We were fortunate enough to select a window table and you can see the view from our table in the picture.
Service was slick and my grand-daughter plumped for a bacon roll. They listened to her diet concerns and delivered. Our tea was piping hot and serviced in a china pot.
We enjoyed the experience and will be tempted back to savour some of the food which was being served. The fish looked particularly good.