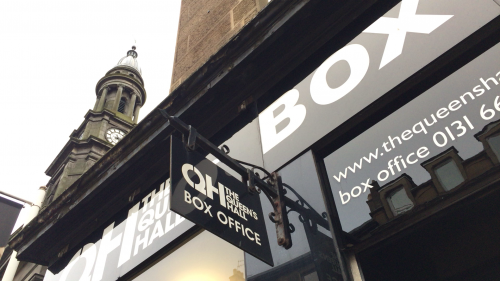 The Queen's Hall Board met earlier today and heard about the £50,000 of improvements carried out over the last year, and then announced exciting news.
Historic Environment Scotland will fund £240,000 of improvements at the 200 year-old hall and this will lead on to around £1 million of refurbishments over the next few years.
Exciting news for The Queens Hall in Edinburgh from Phyllis Stephen on Vimeo.
An important acquisition during the last year is the new Steinway piano which will be showcased tomorrow in Martin Martineau's concert to honour his mother, Hester Dickson Martineau. For some of the time the piano is housed underneath the stage and is only brought up on important occasions such as tomorrow's recital.
The improvements will include the removal of a Scottish Power transformer from the middle of the building which will allow some remodelling of the Box Office area, and may yet open up the possibility of a café development. Scottish Power have made this possible through their corporate social responsibility programme, and we understand that the transformer will be moved off site.
Chair of The Queen's Hall Board Nigel Griffiths told The Edinburgh Reporter that the Phase One improvements will make the exterior of the building more appealing, and will lay the groundwork for future works to the interior of the hall.
He added that Mill Design Architects have begun to draw up plans for the works which will lead to a complete restoration by the time of the 40th anniversary in 2019.