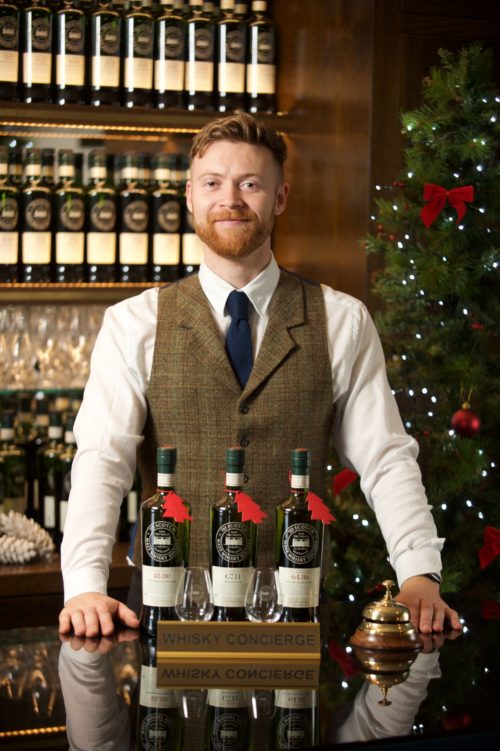 Here is the answer to all of your problems when buying something for the whisky lover in your life.
Now you can get expert advice thanks to The Christmas Whisky Concierge, a new service launched by The Scotch Malt Whisky Society on Queen Street.
The Society is inviting shoppers searching for whisky to sign up and join a Christmas Whisky Concierge session at its new Kaleidoscope Bar.
The weekly group sessions will be hosted by a Society Whisky Concierge, who will help make the often-tricky job of choosing a whisky to buy as a present both easy and fun.
The Whisky Concierge will guide shoppers through the different flavours of whisky available, and give them the opportunity to sample some whiskies from the Society's range of 12 different flavour profiles. The Society has released 60 new single cask whiskies for Christmas, which are now on sale.
For those who can't visit one of the sessions at Kaleidoscope, the Society has also posted an 'Ultimate Christmas whisky Gift Guide' here.
The Society's online shop at www.SMWS.com/whisky also offers a live chat 'Whisky Concierge' service.
Jan Damen, Operations Director at the Society, said: "Whisky is top of many people's Christmas wish-lists but with so many styles of whisky now available, we know that choosing  the right one can be complicated.
"At the Society, we bottle whisky from different distilleries around Scotland and the world every year and we focus on the flavours of whisky. This makes it easier to understand and more fun for people who are often daunted by traditional regional classifications and distillery brand names."
To reserve a place at a Christmas Whisky Concierge session, visit www.SMWS.com/christmas-whisky-concierge
The Christmas Whisky Concierge sessions, Kaleidoscope Bar, The Scotch Malt Whisky Society, 28 Queen Street, Edinburgh EH2 1JX.
£15, every Tuesday and Wednesday 6-7pm, and every Saturday and Sunday 3-4pm, until Thursday 29 December
@SMWSUK
#whiskyconcierge