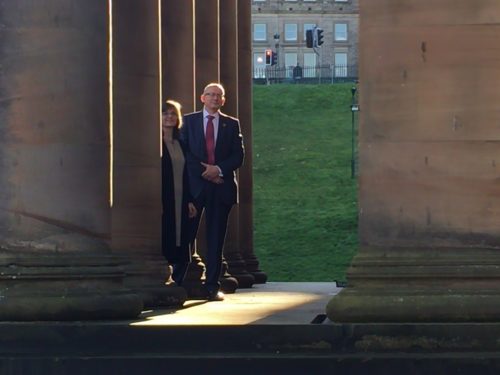 The National Galleries of Scotland are about to embark upon a £16.8 million modernisation programme which will triple the space available to them.
The new galleries will tell the story of art in Scotland from the 17th century to halfway through the last century and will include works by the Scottish Colourists. There will be an arrangement used which will complement that story and timeline.
Sir John Leighton explained to the assembled press that the revamp of the National Gallery was much needed. "There is one part of our estate where I am tempted to curtail our visit or drop it from our itinerary altogether.
"These are galleries that were carved out under the National Gallery in the 1970s under the supervision of the long gone but little lamented government Property Services Agency.
"In its day this new addition was very welcome, it added more space.
"It won several awards. For example, it won concrete construction of the year.
"But I think it would be fair to say that in recent years these spaces have become something of an institutional embarrassment. They are cramped, they are dingy. They have an unpleasant subterranean atmosphere and moreover these galleries accessed by a narrow stair at the back of the ground floor which is quite literally a dead end.
"Those visitors who made it all the way down here found that they had to simply retrace their steps. Our counting system showed us that 18 % of our visitors actually made it to this crucial part of the collection.
"When you add to this the fact that these spaces are physically lower than the other floors this seemed in some ways to suggest a hierarchy of lower equals inferior and was sometimes interpreted as such. These spaces were called the B wing and these are now closed. Very soon the B wing will be no more.
Tricia Allerston (photographed above with Sir John Leighton) is the SNG Project Director. She explained: "We aim to embrace this site much more wholeheartedly and to create a much more stimulating, interesting, interactive experience for our visitors between the real and the constructive worlds within.
"Our new galleries are expressly designed to engage and reengage existing visitors but also to tempt new visitors to come in with light airy spaces, and assemblies of works, groups of works the visitors know and recognise or want to see. We want to create a space in which people want to spend more time."
Chair of the National Galleries of Scotland Ben Thomson said that the new galleries would be a fitting tribute to the late architect Gareth Hoskins with the angled windows and tantalising glimpses of Edinburgh outside.
He concluded: "Our objective is educate, inspire and reach as wide an audience as possible and particularly to use all of our collection including the fantastic collection we have that celebrates Scotland