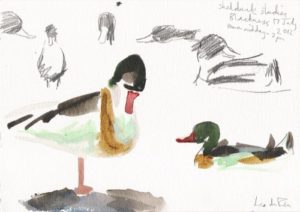 A new solo exhibition by wildlife and landscape artist Leo du Feu will preview at The Sutton Gallery on Saturday afternoon (12th November.)
Edinburgh College of Art graduate Leo works in oil, acrylic and watercolour, producing stunning images of birds, buildings, cliffs and seascapes. Exploring on foot, by bike and by train, Leo sketches and paints in the landscape, using material he gathers to complete other works back in the studio. A keen conservationist and environmental campaigner, Leo volunteers for the RSPB and the British Trust for Ornithology; he also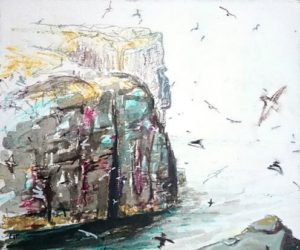 works on art projects with schoolchildren in Burntisland, his current home – and where he will soon be opening a new (and appropriately located) studio and workshop at the railway station.
Leo's ongoing Scotland by Rail project (sponsored by ScotRail) aims to highlight the wealth and diversity of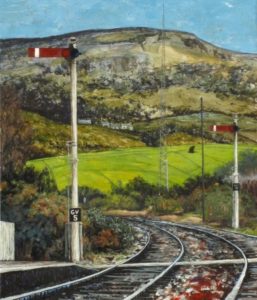 rail-accessible landscapes throughout Scotland. He has published two books of his work, Sketches from Canada, following on from a 2010 Royal Over-Seas League Commonwealth Travel Scholarship, and Landscapes and Birds of Scotland: An Artist's View with forewords by Michael Palin, artist John Busby, the RSPB and ScotRail. As he says, he's 'rather obsessed with birds.'
This exhibition will represent a diverse new selection of Leo's work.
The Sutton Gallery at 18a Dundas Street was established in 2012 by Reuben Sutton and Colin Herd. As well as stocking work by artists with an international reputation, it is committed to promoting the work of up-and-coming artists from around the UK. The gallery is open 11am-5pm Tuesday to Saturday; Leo's exhibition will run until 30th November. The preview is from 4 to 6 on Saturday, and everyone is warmly invited to come along.