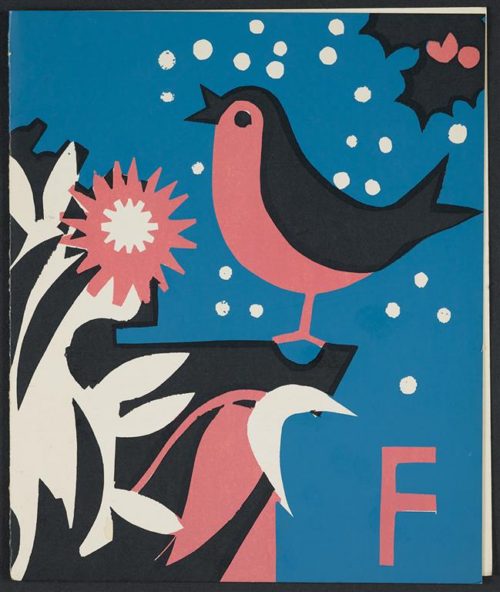 HAPPY CHRISTMAS!
CARDS FROM THE IAN FLEMING COLLECTION
5 November 2016 – 29 January 2017
Scottish National Gallery of Modern Art (Modern Two)
73 Belford Road, Edinburgh EH4 3DS
Admission FREE | 0131 624 6200
#ScotModern
At The Scottish National Gallery of Modern Art – Happy Christmas! from Phyllis Stephen on Vimeo.
We went along to The Scottish National Gallery of Modern Art this morning to have a look at a small exhibition which will run over the Christmas period. The display is free and includes Christmas cards from the personal collection of Scottish artist and lecturer Ian Fleming (1906-1994).
We were delighted to meet Alisdair Fleming and Elspeth Fleming-Sutton whose father Ian made and sent some of the cards, and whose mother collected them together in a cardboard box!
It is a fascinating collection in the Gabriele Keiller Library on the ground floor, and the exhibition is free to enter.
Happy Christmas! Cards from the Ian Fleming Collection has bold, decorative and often amusing original cards which embody the variety and creativity of the Scottish art scene in the mid-20th century, with artists including Anne Redpath, William MacTaggart and Ainslie Yule, as well as Fleming himself.
A key figure in the Scottish arts scene from the 1930s until his death in 1994, Fleming was a celebrated artist and lecturer who established long-lasting relationships with fellow artists and art institutions over the course of his career. This very personal collection of cards, which Fleming meticulously accumulated over the course of 40 years, highlights the significant connection between Scottish artists and art educators.
Born in Glasgow, Fleming studied painting, drawing and print-making at the Glasgow School of Art; Glasgow Art Gallery bought two of his prints while he was still a student. He taught at Glasgow School of Art and became Principal of Gray's School of Art in Aberdeen in 1954. He notably painted the portrait of two of his students who later became known as 'The Two Roberts': Colquhoun and McBryde, stars of the art world in the 1940s and friends with the likes of Lucian Freud and Francis Bacon.
Fleming also produced detailed paintings, etchings and engravings of Glasgow, the Scottish Highlands and the Continent. During World War Two he served as a reserve policeman, witnessing and depicting the extensive bombing of Glasgow by German forces in a memorable series of prints and paintings. He later became Chairman of the Peacock Printmakers' Workshop in Aberdeen; his influence throughout Scotland led to an honorary LLD from Aberdeen University and an honorary Doctorate of Arts from the Robert Gordon University, of which Gray's School of Art is a component part.
Some of the designs on show include colourful flowers from Anne Redpath OBE (1895-1965), the Edinburgh College of Art alumni and one of the great figures in 20th century Scottish painting; a luminous scenery by renowned Scottish landscape and still life painter Sir William George Gillies (1898–1973); and a robin and holly card by Alastair Flattely (1922 – 2009) who was known primarily as a landscape painter as well as principal of Gray's School of Art from 1972 to 1987.
The display will include a detailed self-portrait etching from 1937, when Fleming was 31 and a Senior Lecturer at Glasgow School of Art. Portrait of the Artist shows Fleming at work in his studio, surrounded by his etching equipment and drawing tools, a Degas reproduction and works from artist friends.
Clara Govier, Head of Charities at People's Postcode Lottery, said: "The People's Postcode Lottery is delighted to welcome the festive season with the National Galleries of Scotland and the 'Happy Christmas! Cards from the Ian Fleming Collection' display at the Keiller Library. Thanks to the support of Players of the Postcode Lottery, visitors can now complement the Christmas period by viewing this intimate display of exceptional festive drawings by many great Scottish artists, including William McTaggart and Anne Redpath".