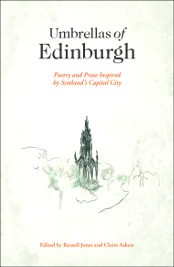 'These poems and short stories show us that the city is inseparable from its people.'
Edinburgh has inspired many writers, from Walter Scott and Robert Louis Stevenson to Ian Rankin and Irvine Welsh. None of them, however, has taken in as many locations at one sitting as Claire Askew and Russell Jones' new anthology Umbrellas of Edinburgh, to be published by Freight Books on 30th November.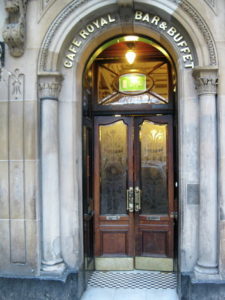 This vibrant collection of new writing brings together the poetry and prose of seventy writers – some local, some visitors – including JL Williams, Aonghas Macneacail, Richie McCaffrey, Ryan van Winkle and Pippa Goldschmidt. Each one celebrates different locations across the capital; palaces, parks, pubs and places from Blackness Castle to the airport,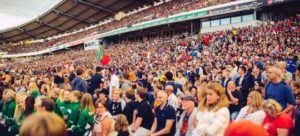 Dean Village to the National Gallery of Modern Art, the Café Royal (left) to Tynecastle (right), the Royal Mile to the Cowgate, Morningside to Blackford Hill.
But Umbrellas of Edinburgh isn't just another coffee table book. Editors Askew and Jones say;
'Edinburgh is a hub for literary inspiration and ambition, hosting the world's largest literary festival, and it's the world's first UNESCO City of Literature. But pick up a collection of writing about Edinburgh, and you're often faced with the same list of names: dead white men.
As editors, we were keen to reflect the diversity of Edinburgh and its people, and to shift the existing focus through a more contemporary lens. This anthology includes work from writers of colour, writers who identify as LGBTQIA+, who live with disabilities, writers who have lived in countries other than Scotland, and its contributors predominantly identify as women.'
This is a poet's-eye-view of Edinburgh, Edinburgh in all its guises and moods – one through which the reader will discover the city all over again. Between its 200 pages are 'explorations of architecture, fragments of memories, views of potential futures, romps in hedgerows, summer picnics, hard winters, love, loss and the moments in between.'
Umbrellas of Edinburgh will be launched at the Scottish Poetry Library, Crichton's Close, on Thursday (3rd November) at 6pm. There'll be readings by Theresa Munoz (above, right), Harry Giles (above, centre), Jane Griffiths, Jonathan Bay, Marjorie Gill, Colin McGuire, Louise Peterkin, Elizabeth Rimmer and Colin Will, plus wine, cake and celebratory cheer. And as we're approaching that time of year again, you'll be able to sort your Christmas list in one fell swoop, by buying everyone a copy of the book!
(If you can't get to SPL on Thursday, there will be a further launch at Blackwell's, South Bridge, on Tuesday 15th November at 6.30pm, this time with readings by contributors Roddy Shippin, Ruth Aylett, Andrew James Wilson, Patricia Ace, Tracey S Rosenberg, Jane Alexander and Sandy Thomson.
And yes, more cake, more wine…)