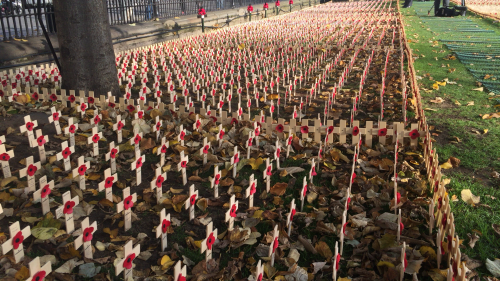 The Garden of Remembrance in the shadow of the Scott Monument in Princes Street Gardens was officially opened this morning in a ceremony involving The Lord Provost of the City of Edinburgh, the Culture Secretary the Rt Hon Fiona Hyslop MSP representing the First Minister along with dignitaries from The Royal British Legion Scotland and members of ex-service organisations.
Edinburgh's Garden of Remembrance is now open We spoke to @LordProvostEdin after the official ceremony pic.twitter.com/cHpkZ151s6

— Edinburgh Reporter (@EdinReporter) October 31, 2016
A few hundred people gathered to be silent, listen to the Last Post, hear some poetry and dedicate the garden to the memory of the fallen.
Wreaths were laid to remember those who died in war in an event organised by Legion Scotland the largest veterans' membership charity in Scotland.
You can still see all the wreaths, and the poppies which have been planted in the Garden of Remembrance.
Kevin Gray, MM, Chief Executive Officer, Legion Scotland said: "Remembrance events are being held across the whole country providing focal points for the public to remember those who have made the ultimate sacrifice while serving their country, sacrifices we must never forget."
The memorial event on Remembrance Sunday will be held at the Stone of Remembrance outside the City Chambers on 13 November 2016 at 11am. The public may attend that event and also the church Service of Remembrance which takes place at St Giles Cathedral beforehand.