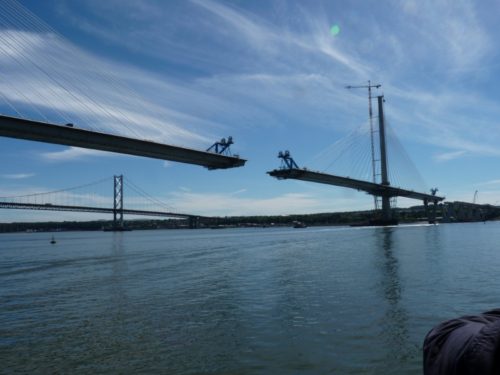 At a meeting of the Rural Economy and Connectivity Committee at Holyrood this morning David Climie who is Project Director of the Forth Replacement Crossing Team was questioned about the progress of the new bridge.
Mr Climie said that he hoped to achieve the revised completion date of May 2017 : "We were as concerned as anyone else when the date had to be changed, and if you're changing the completion date then you have to change it to something that is realistic and achievable. It was quite a painful process to change the date.
"We cannot guarantee it, but by the same token we are not saying this is the best we can do either. It is a realistic date going forward."
Mr Climie also said : "I'm always an optimist so I hope it will be ready before May, but I'm also a realist so I accept there are certain circumstances where it could be after May."

Lawrence Hackman who is also a Project Manager on the new bridge explained that there are many built in facilities on the bridge which should allow for ease of maintenance: "We've really considered maintenance and operation in a lot of detail at the planning stages, so we've built in ease of maintenance and ease of operation and also health and safety as well. If we need to inspect any part of the bridge, the inside workings of the bridge, inside the towers to check the cable stay anchorages and that kind of thing you can access the bridge by going through the deck not actually having to stop on the hard shoulder and walking across to the towers."
Alex Cole-Hamilton who is LibDem MSP for Edinburgh West, and within whose constituency the new bridge lies, said :"People in Edinburgh are facing months of uncertainty over when the Queensferry Crossing will open and the 'mibbes aye, mibbes naw' approach we saw this morning has left them none the wiser.
"I would urge Ministers and the project team to ensure that local people are not kept in the dark and get all the information on the progress of the bridge work that they need."