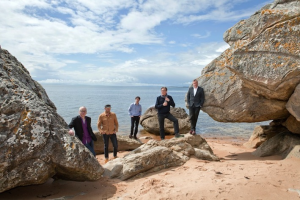 Six years since their last album and a sold out gig at Edinburgh's Liquid Rooms, Teenage Fanclub are back with a new album this Friday.
Reflective, dreamy and serene, Here is perhaps a tad late in being released, evoking a sound of summer life and love.
Gerard Love modestly talks about their influences, Edwyn Collins, their new album, Here.
TER: Where did the name Teenage Fanclub originate from?
GL: We began recording our first album but we did not actually have a name at that time. I think it may have originated from a conversation between Norman (Blake) and Duglas (T Stewart from BMX Bandits), possibly, I don't know. We were certainly back then a lot closer to being teenagers than we have been for some time, you know.
TER: Which Scottish musicians are you inspired by and following that are releasing records at present?
GL: Scottish musicians? We are more inspired by music from elsewhere but certainly by people who grew up in Scotland, become musicians, form bands and do well. That's very inspiring. When you look at bands like Orange Juice or The Proclaimers, or any band that had chart success, just the fact that people from Scotland were making waves is quite inspiring I think.
One generation inspired the next generation that you have lots of bands that are doing well critically these days. Bands like Belle & Sebastian, Franz Ferdinand, Frightened Rabbit, you know, Twilight Sad. We are inspired by their success and the approach of your fellow Scots but in terms of musically inspiration comes from mostly Orange Juice. But we were also influenced by American and British bands of that time as well.
TER: Talking of Orange Juice, were you ever tempted to ask Edwyn Collins to collaborate?
GL: Before his illness, we were asked to collaborate on a TV show. I don't know why it didn't happen. After his illness, when he was coming back, he had maybe done a tour, a couple of tours and we were asked to do a few shows with him, as the backing band, where we had to do the Edwyn Collins back catalogue. But even recently, he has a new studio up in the east, we were up doing some B-sides but we have yet to collaborate with him in the future, which would be great. But we have actually worked with him under pressure learning his entire back catalogue.
TER: Moving onto the new album, Here, what are we to expect from this release?
GL: I don't really know. We don't really have high concepts, we just start doing stuff and see where it takes us. It's just always how we feel naturally you know. Our work has always been much the same and this is another installment of Teenage Fanclub.  We are just a bunch of blokes, who every so often put out an album. Thankfully a lot of people have stuck with us throughout the years, we still have a fan base, people still engage with our records, or buy or records.
TER: You've recorded this album in three very different locations, Provence, Hamburg and Glasgow. Was there a motive behind this decision?
GL: We don't really plan things. These days it's become more expensive to record in Glasgow than it has somewhere more exciting. We have always left Glasgow to record as we like to get out of the industrial city to the more rural parts to record. There is something about leaving what you know and go somewhere new to record to try to discover something about yourself that you don't know.
We went to Provence to see how we got on, and we went for three or four weeks. We recorded some stuff but did not finish it so we had to record in Glasgow. The next thing was to look for a place to mix. When mixing the most important thing is the equipment so we searched places that had a specific desktop and specific equipment and we found a place in Hamburg, in Germany which had an unbelievable amount of old equipment. So it was just a matter of one thing led to another. It wasn't planned. You start something and eventually you find ways of finishing it. It was a journey. We started off in France, came back to Glasgow and ended up in Germany.
TER: With a six year gap since the last record, have you felt the pressure to release something to please the fans? Or has there been more a conscious decision to tap into a new generation of fans?
GL: I don't think there is much conscious decision, it's more instinct. Certainly as we have gotten older things have changed. For the last four/five years, Norman has lived in Canada. Even though technology has allowed for us to discuss things it's still different when you are not in the same time-zone as someone else. We find that as we get older it gets more difficult to do things.
This century we have been self-releasing. When you are calling your own tunes, you're the boss, you can decide when things happen. As you get older, other things in life take over. In the period between the last record and this record we have all been involved in side projects as well which is completely natural. The last six years have flown by. When you are in your late forties and early fifties other things become more important than releasing a record. It's only ready when it's ready and that's the way we work.
An album fit for any Teenage Fanclub fan, with great anticipation geared up over the last six years will no doubt see another success for the Scottish lads. Written and approached in their usual organic style, those that grew up in the nineties listening to Norman, Gerry et al have much to look forward to.
Here will be released 9th September on PeMa via Republic Of Music.