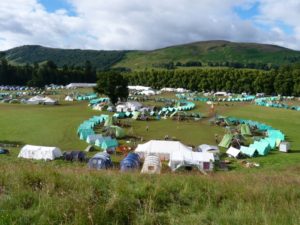 As the Edinburgh Festival begins, let me take you to another festival completely….this year's Scout International Jamborette at Blair Atholl in the hills of Perthshire.  I've just come back from this two-week encampment in what we Scouts call "The Field of Dreams".  Here we pitched 728 tents, sleeping 500 scouts from Scotland and 400 from 19 countries overseas, 300 Scottish staff and 100 overseas staff, And, on the middle weekend, there were a further 700 scouts from all over Scotland who came to join the fun.
This was scouting on an industrial scale. Over 40,000 meals were cooked, mostly on open fires.  33,000 litres of milk were drunk and an incalculable amount of Irn Bru. There were 42 different activities for the boy scouts, and  girl scouts, to choose from. They ranged from hill-walking, to water sports, carpentry to back-woodmanship, arts and crafts, to the camp radio station.  It was an anthill of activity, made all the better by the good weather – except for one dramatic thunderstorm which impressed even the Americans.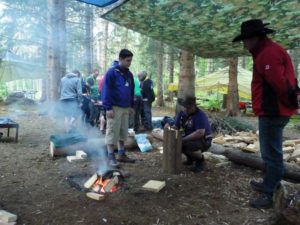 This week the Scottish scouts are hosting the foreigners in their own homes to cement the friendships they've already formed in the camp. This was all the idea of a Scottish scout leader Jack Stewart who, in 1946, wanted to bring the young people of the world together in peace after the divisions of Second World War.
The following year the first Edinburgh Festival was held with the same ideal in mind.  So as I arrived back in Edinburgh on Saturday afternoon and mingled with the crowds preparing for a month of international "culture," I was struck by the similarities. The festival is art on an industrial scale, bringing together people from all over the world. All have to be fed, watered, tented, entertained and inspired.  Everyone should go, at least once, to a "Field of Dreams."