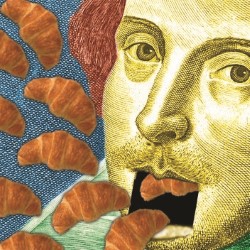 Shaking All Over: The Bard Seriously Deliriously Rebooted.
This show celebrates its 25th anniversary at the Fringe with gasping gusto and infectious brilliance playing Faustus and loose with the Bard's 400th anniversary. A gaggle of five thespians, nay super trouper, star-dazed lovers of impish mischief meet and greet with gratis coffee and croissants. Many a loyal punter back again for another dose of pun-laden balladry. Should we egg them on or is enough un œuf? Trust us here, the cross-fire machine-punnery takes no prisoners. Shakespeare's language is coshed, joshed, mugged, hugged and stretched to implausibly incredulity on the Procrustean rack of contrived silliness.
It seems apposite that the bardic breakfasters should find their hallowed O at the Adam House on Chambers Street, the Adam dynasty responsible for so many architectural wonders of the neo-classical New Town. And Chambers? Well, it was he wot wrote the other dictionary that Baldrick managed not to burn.
The essential conceit of the show finds itself set a mile about the town of Athens. The rude mechanicals are preparing their play for King Theseus – steady, you are getting ahead of yourselves here!
We are about to experience A Midsummer's Nightmare of mangled rhyming couplets, Estuary Essex tortured iambic pentameter, #idiom and the most like totally gross Made In Chelsea pretty but very vacant lovers – like evva!
The King of The Faeries is Obi-one, hellish bent on regaining his retro Game-Boy from his fair Titania, a fearsome bearded ginger in drag. Forbid, dear reader, your mind's eye to picture this! Suffice to relate that Puck is dispatched to Amsterdam to procure some highly dubious 'love cake'. Bottom awakes to discover he has become the most incarnate manifestation parody of Boris Johnson allowed in a family show during daylight.
Titania has to concede she woke up in bed with an a*se. Demetrius utters the best sick-bag line of the century to the already woefully misused Helena, 'If I could rearrange the alphabet I'd put U next to I!' You were warned earlier about this.
Utterly adorable but best not wait for the Coles revision notes to explain anything. Frightingly recommended.
Make it your Fringe must or bust.