by Melanie Weigang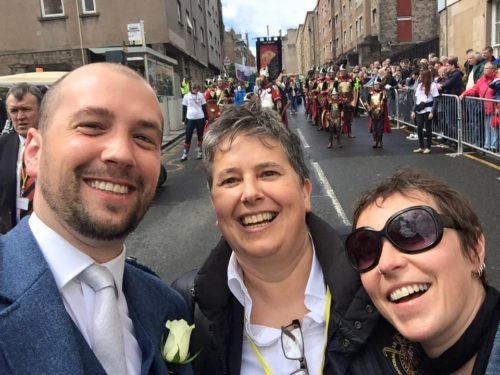 What a day, undoubtedly Saturday was one of the best days in my life. Being nominated as Local Hero by our MSP Ben Macpherson for Edinburgh Northern and Leith on behalf of the Lorne Community Association (LCA) was already overwhelming, but being invited to the Opening of the 5th Session of the Scottish
Parliament was certainly a huge honour and thoroughly enjoyable.
My neighbour and fellow LCA committee member Joy Rentoul joined me yesterday on the 'Big Day Out' and certainly that's what it was.
When we arrived at the Parliament in the morning we got to watch the arrival of the
Queen in a designated area on big TV screens. Following the Opening Ceremony
all Local Heroes then went to view the Queen departing the Scottish Parliament and
while she and the Duke of Edinburgh were walking by they were talking to some
of us and being part of it was very overwhelming.
Once the Presiding Officer, the First Minister and the leaders of the other parties
bade farewell to the Queen it was 'selfie time' with Nicola Sturgeon and the
other party leaders, while the First Minster was in demand like a rock star and
she whole heartedly gave in to all requests.
The selfie tradition continues! @BenMacpherson pic.twitter.com/GV9sG5D0XG

— Edinburgh Reporter (@EdinReporter) July 2, 2016
After that Ben, Joy and I joined the Riding on the Royal Mile which was an amazing
parade with many wonderful organisations participating. We walked down to the
front of the Parliament from where we continued to enjoy watching the rest of
the Riding passing by and Joy managed to catch a selfie with Scots Makar,
Jackie Kay.
We then moved on to the park for lunch. While in the park we managed to catch up
with Green MSP Andy Wightman, who is another great supporter of our community
and then Ben introduced us to Cabinet Secretary for Communities, Social
Security and Equalities, Angela Constance and it was a pleasure to meet her.
After lunch we went back inside the Parliament to enjoy an afternoon full of
wonderful entertainment. We enjoyed lots of different live music celebrating Scottish
and international culture.
Ben then took us to the Parliamentary Chamber where we took more selfies sitting in
the Presiding Officer's and the First Minister's seat.
Before we left we went for another coffee downstairs at the café where we bumped into Minister for International Development and Europe, Alasdair Allan who is currently doing a great job at reassuring EU nationals like myself that we are welcome here and had a wee chat with him. Luckily we also got a chance to thank Kevin Stewart, Minister for Local Government and Housing for his amazing support for our community before we bid farewell to our wonderful host Ben Macpherson.
Thank you Ben for an unforgettable day!