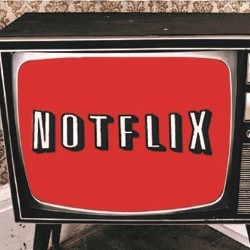 Notflix is an entirely improvised comedy musical based around spoofing the sinister algorithm used by Netflix in order to make suggestions for movies and tv shows that individual viewers may like. Waiting for the Call have taken this concept and used movies suggested by the audience to create a full length comedy musical, with all songs and vocals improvised spontaneously by the cast. Once initial audience suggestions are taken, the team perform non-stop for a full hour without any thinking time. This structure makes Waiting for the Call unique amongst UK musical groups.
Waiting for the Call was formed by self confessed improv nerds Sarah Spencer and Pernilla Holland who wanted to fill the gap in the market for American style spontaneous musical improvisation.
Creative Director Sarah Spencer says that being an all female group in the male dominated improv comedy world gives her group a unique voice that keeps audiences coming back. And, in an ideal world, the fact they they are women wouldn't even be mentioned.
Waiting For The Call is creating an improv revolution, bringing the world of improvised musical comedy to the mainstream stage.
LISTING INFORMATION
VENUE: Gilded Balloon
DATES: Aug 3-29
TIME: 15:15 (1 hour)
TICKETS: £10 / £8; (Preview – £6)
Get your tickets here