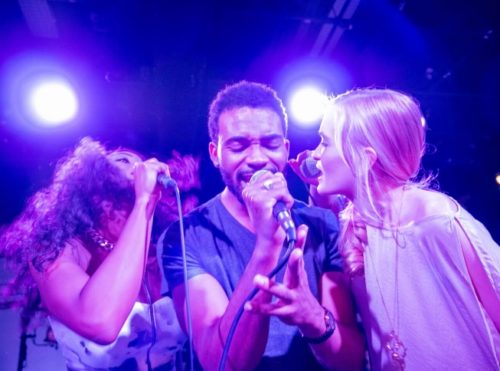 New American songwriting team Brian Carbine and Preston Butler III present their debut concert drama – a re-imagining of Henrik Ibsen's When We Dead Awaken, set to an original neo-soul/hip-hop concept album.
An ensemble of four tell the story of a celebrated artist struggling to atone for the sins of his past, while desperately searching for a new future. Using a combination of digital and acoustic techniques, the performers produce the music live on stage, weaving seamlessly between concept album and Ibsen's narrative.
Artist (Preston Butler III) has achieved great fame and fortune for his masterpiece entitled "Day of Resurrection." But since its creation, he has become restless, disillusioned and tortured. This struggle has crept into his personal life, leaving his marriage as a source of tedious disappointment.
He and his Wife (Kristin Tripe) wander from place to place, searching for something that will either save them or set them free. Freedom presents itself at a mountain resort in the form of Muse (Jasmine Gatewood), the inspiration and model for the Artist's masterpiece. Entranced and convinced that she holds the key to his creative power, Artist will sacrifice everything in hopes of finding himself again.
LISTING INFORMATION
VENUE: Venue 13
DATES: Aug 6, 9-13, 16-20, 23-27
TIME: 15:45 (1 hour 15 mins)
TICKETS: £10/£8
Get your tickets here.