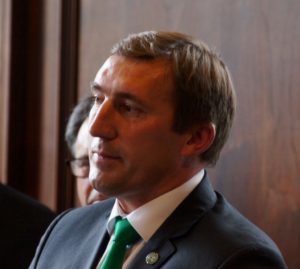 Former Hibs' Head coach Alan Stubbs says that he will always be thankful to Hibs for giving him his first job in management but he can't wait to get started and make signings to take Rotherham United forward.
Stubbs was officially unveiled as the club's new first team manager at a press conference at noon today at AESSEAL New York Stadium, after his appointment was confirmed yesterday evening.
Stubbs is joined in South Yorkshire by assistant manager John Doolan who helped mastermind Hibs' first Scottish Cup triumph in 114 years after a dramatic victory over Rangers at Hampden Park last month but he  now insists that he is fully focused on his new challenge at AESSEAL New York Stadium.
Stubbs told the club website: "I went to Hibs and I will always be thankful for the opportunity that they gave me, and I would like to think that they were really happy with the job that I did there.
"Like everything once you start doing well, then you get admirers and I am glad that the Chairman here was one of those.
"Now I am here I cannot wait to get started, we'll look to make some new signings and look to take the club forward.
"I am delighted to be here and I am looking forward to the next chapter now with Rotherham United.
"It is an exciting time and I am really looking forward to my teeth into this challenge, and bringing some exciting players into the football club.
"This is a great opportunity. The stadium is fantastic, we have a nucleus of good players here and there is room for me here to work on building on a new squad.
"We all know how competitive the Championship is, and I know what an exciting challenge it will be."
"We have offered contracts to five players here so there is a lot of work to be done, but for me that is exciting work because it is chance to try and mould the team around how I want to play.
"We have been speaking about signings all night and all day. What we want to do is bring quality to the football club, it is not necessarily about bringing in a certain amount of players, we want to sign real quality that the fans can be excited by.
"I am sure that the fans will see an exciting team on the pitch. We want to play a brand of football that will get the fans excited, I like to play attacking football, but I also like to be a team that is hard to beat as well.
"The club has established itself in The Championship over the past couple of years, so now it is about looking up rather than looking behind. With the help of everyone behind the scenes I am sure that we are going to have a busy summer."