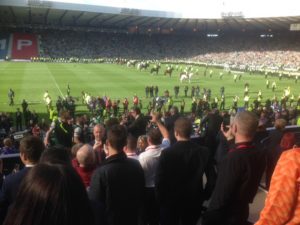 The Scottish FA has appointed Sheriff Principal Edward F Bowen CBE QC to chair the independent commission into the events after the William Hill Scottish Cup final.
The announcement was made to the members of the Scottish FA at its Annual General Meeting this morning. The Sheriff Principal will establish the commission immediately with the remit to provide a report into the security and risk management procedures deployed in regard to the pitch incursions at full-time.
In particular, the commission will consider whether:
• All reasonably practicable steps were taken to minimise the possibility of the pitch invasion and related events
• There was adequate liaison regarding security measures among the relevant groups prior, during, at the end of the match and thereafter
• The stadium configuration, segregation, seat sales and seating arrangements contributed to the pitch invasion
• The response – including reaction times – of the relevant stakeholders (Scottish FA, Police Scotland, G4S and the clubs) in identifying, dealing with and resolving the pitch invasion and all related consequences were satisfactory
• There are measures that can be taken to improve the safety of players, officials and others proximate to the pitch at any stadium where association football matches are concerned under the auspices of the Scottish FA
The Scottish FA has requested that the commission's report – which will be published in full – will be presented to the Board by 31st July 2016.
The Compliance Officer has also initiated an investigation into the cup final, from a football regulatory perspective via the Judicial Panel Protocol.
The Cabinet Secretary for Justice, Michael Matheson, spoke to the membership to reaffirm the Scottish Government's view that the events following the cup final were unacceptable – urging football to be proactive in ensuring no repeat of the disorder, potentially via tighter regulatory controls.
All seven Resolutions placed before the members were also passed at the General Meeting held in the Chambers' Banqueting Hall, with two significant changes approved.
Resolution 6 obliges members to declare to the Scottish FA the identity of the club's ultimate beneficial owner and to permit the governing body to publish the details disclosed under an amendment to Article 11.1.
This was a response to work with Scottish Government, the SPFL and Supporters Direct Scotland on the Working Group on Supporter Involvement in Football and the resolution provides enhanced transparency around the ultimate beneficial owners of clubs.
Resolution 2 sought to tighten the existing regulations on Unacceptable Conduct, placing greater emphasis on the responsibility of clubs in managing the behaviour of supporters, before, during and, most importantly, after the game.
Alan McRae, Scottish FA President: "I would like to thank the members for voting through the seven resolutions put before them, which enables the Scottish FA to improve its procedures in a number of areas, reflecting modern corporate governance practices.
"I am delighted we have also appointed Sheriff Principal Bowen CBE QC and we look forward to seeing his report into the cup final in early course.
"Finally, I would like to thank the Cabinet Secretary for Justice, Michael Matheson, for taking time to address our members in light of the events at the end of the cup final. The Scottish FA has an excellent working relationship with the government and we will continue our collective efforts to implement robust procedures to ensure no repeat of the unacceptable conduct at what should have been the showpiece occasion of the Scottish season."