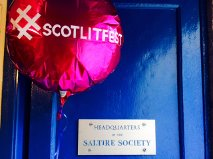 #ScotLitFest kicked off with a launch party to celebrate this first time festival, a virtual festival no less, enthusing literary Edinburgh before their crowded programme gets going.
As part of The Saltire Society's 80th anniversary celebrations this festival will run over this weekend, celebrating Scottish literature. Bringing a host of the best and brightest authors straight to you, wherever you are in the world, #ScotLitFest is allowing for fans to engage with Scottish authors and, well, vice versa.
Live video streams, Twitter and Facebook chats, collaborative events, exclusive content is all up for grabs for fans of Scottish literature and culture.
Founded in 1936, the Saltire Society are a non-political body concerned with all aspects of Scottish life and culture, rewarding excellence in these fields. #ScotLitFest has a programme of events which does precisely that, allowing readers to engage with authors such as the award-winning Michel Faber, Kirsty Logan, Janice Galloway as well as musician, lyricist and author, James Yorkston. It is a fantastic initiative by the organisation to use social media to enthuse inclusivity.
For a full list of the programme this weekend click here – they only request that you are online and interact with the authors to be involved – just sign up here