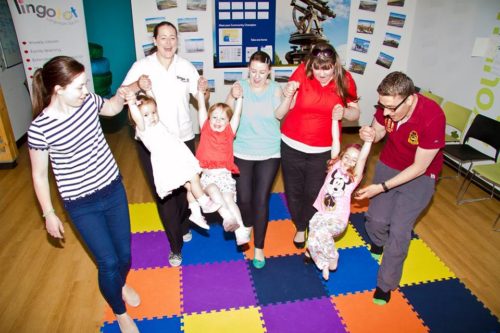 As the results for the EU referendum were being revealed children in Edinburgh show us what it's all about with a giant Hokey Cokey sung in one of the most popular language of Europe.
The children who take part in Lingotot language classes in Edinburgh sang the Hokey Cokey in Spanish at their weekly language classes as part of a nationwide event at lessons across the UK.
The children aged 6 months to 5 years old were joined by around 10,000 other Lingotot students and their parents and carers in classes at community centres, church halls, schools and shopping centres up and down the UK, all singing the children's favourite party song in at least one European language.
The 32 Lingotot franchisees came together to organise the mass Hokey Cokey as a fun way to highlight the importance of the decision made for this future generation.
Giselle Dominguez, who runs the Lingotot franchise in Edinburgh said: "Whilst the European Referendum went completely over the heads of most of our students, the decision made will have a lasting impact on their lives.
"I've been fortunate enough to spend some time living abroad where I really cemented my love for languages and I understand the great pleasure that can be found in learning a foreign language and experiencing other cultures. However, regardless of the decision made by the British public, learning the language of one of our European neighbours will always be a pleasure and hugely beneficial – in fact some say that voting out means that the need to speak another European language will be even greater.
"I hope our European Hokey Cokey has helped to bring some light- hearted yet thought-provoking entertainment to the whole event and demonstrates that there will always be a place for European languages."
Susan who has been coming to the class with her daughter for the past year added: "What a fun way to highlight an important issue. Regardless of the outcome the benefits of learning another language are far reaching. So despite the decision made we will continue to keep learning!"
The children who learn Spanish at Broughton St. Mary's Parish Church every Saturday are part of a growing number of youngsters in the UK who learn modern foreign languages from a very early age. There is increasing evidence to suggest that the younger a child starts to learn a second language the more success they will have which is supported by the Scottish Government's policy, Language Learning in Scotland: A 1+2 Approach ensuring that every child has the opportunity to learn a modern Language from P1 onwards.
Children from six months old to 11 years old take part in the Lingotot classes in community venues and within schools in the UK.
Submitted by Giselle Dominguez