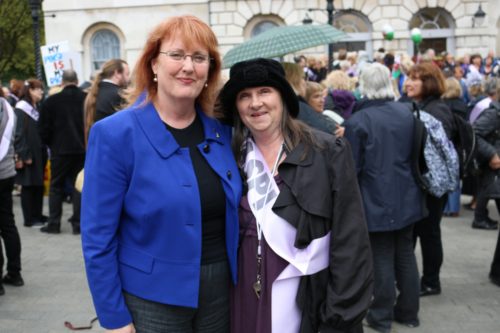 Deidre Brock MP for Edinburgh North and Leith met with women from across the UK, including Edinburgh, who attended a mass rally outside Westminster for the WASPI (women against state pension inequality) campaign earlier today.
Ms Brock said:- "The UK Government cannot ignore the voices of these amazing women fighting simply to get the pension they are owed. It's inspiring to see such a huge turnout, including many who've travelled from Scotland.
"We all support the equalisation of pension ages, but the burden of bringing in this change must be spread across society, not placed on the shoulders of women who have been misled about the age they could retire.
"Women born in the 1950s saw their plans shattered when the age was raised more quickly than promised and without due warning. Many have been left in severe hardship as a result.
"Fair transitional state pension arrangements for the women affected is not only affordable, it is the duty of the UK Government to do so – it's time to get this sorted."