AN S1 pupil from Broughton High School has designed Aldi's new Moo Crew a herd of five fibre glass cows which are being rounded up for the year's Royal Highland Show.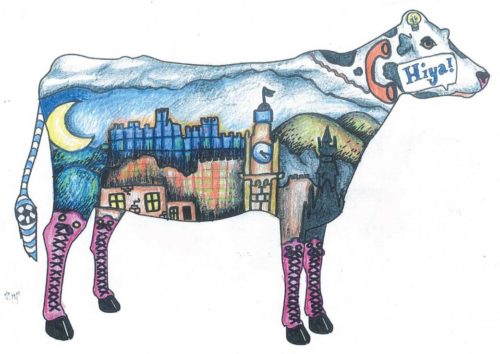 Mhairi Hamilton is one of five young artists whose artwork is being transferred onto the life size cows commissioned by the supermarket. The cows are being used as a marketing mooooove to promote Scottish beef.
Schools from across Scotland entered the competition.
All winners won £50 vouchers for their families and £250 or their schools//
Mhairi said: "It's really cool to see my design printed on one of the cows and I'm so excited that so many people will get to see my artwork at the Royal Highland Show.
"It was fun to take part and I'm glad I've been able to win a prize for my school too."
Richard Holloway, managing director at Aldi in Scotland, added:"We're really excited to reveal the Moo Crew and would like to thank each of the schools that took part in the competition to design the cows.
"The Crew is making its first public appearance at the Royal Highland Show today and is part of Aldi's work to raise awareness of the beef and farming industries in Scotland.
"Aldi is committed to supporting local suppliers and the Aldi Moo Crew is a great way to demonstrate the Scottish produce that we are lucky to find available on our doorstep every day."