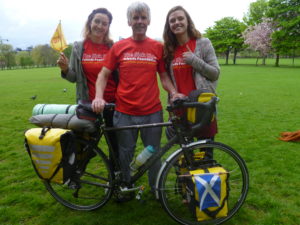 Edinburgh man Andrew Dickson's three-month cycle ride across Canada to raise money for charity has not got off to the best of starts.
The former police officer flew to Canada yesterday and had hoped to start immediately however his trusted bike is still at Heathrow.
Hopefully the bike will be with him later today or early tomorrow and his epic journey can begin.
This isn't his first such adventure however having conquered USA, Australia and New Zealand in recent years but this will be his toughest challenge to date and he hopes to complete the 5000 mile journey in exactly three months although even he has not decided on his exact route yet.
The trip should end at Halifax Nova Scotia on 23rd August although he now has some time to make up through no fault of his own.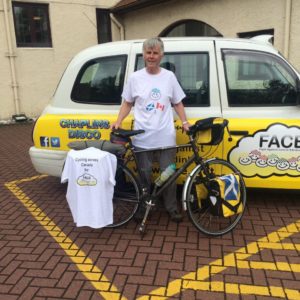 Unlike most other charity rides, Andrew will be cycling alone and unsupported, with all the necessary equipment, camping gear and clothing being carried on his bike.
The trip, which is totally self-funded, will hopefully raise money for three very worthwhile charities that in their own ways help to make a real difference in the treatment and care of children and young people in hospital.
The chosen charities are: The Craig Gowans Memorial Fund, Fighting Against Cancer Edinburgh (FACE) and the Sick Kids Friends Foundation.
The Craig Gowans Memorial Fund was set up in the memory of the young Falkirk footballer who was killed when a net catcher he was instructed to move during a training session struck an overhead cable. Last year the charity won the prestigious Voluntary Fundraising Group of the Year award having raised many thousands of pounds for worthwhile causes.
FACE is a cancer fund established in 1990 and is based at the Edinburgh Cancer Centre of the Western General Hospital in Edinburgh. The funds raised through FACE provide the "little things" that make a difference to patients and families who have been affected by cancer. FACE is run entirely by volunteers, who have directly or indirectly been impacted by cancer
The Sick Kids Friends Foundation believe that nothing should get in the way of being a child. We exist to transform the experiences of children and young people in hospital so they can be a child first and a patient second.
Last night Andrew told the Edinburgh Reporter: "I arrived safely in Vancouver with my hand luggage but unfortunately not with the boxed bike. This was me when Air Canada staff told me my bike was still in Heathrow and MIGHT arrive on Tuesday!!!!"
"Once my bike arrives, I'll head for a little island immediately to the north of the airport which is linked by a causeway.  As it's called Iona Island, I thought that would be a good place to dip the wheels in the sea on the Pacific side and start my crossing to the Atlantic at Halifax, Nova Scotia.
"The next day , I'll head into Vancouver city and then take Highway 7 to a place called Hope, where I'll pick up Highway 3, know as 'Crowsnest Highway' to Medicine Hat, Alberta which will be close on the 1000 mile mark.  This is when it gets a sketchy.  I will probably go through Winnipeg and Quebec but other than that I'm not sure.  I tend to ask locals and then make a decision.  I must however be in Halifax, Nova Scotia by the 23rd August for my flight out."
John Macaulay MBE Convenor of FACE told the Edinburgh Reporter: "FACE are delighted for the support ANDREW is giving to our cancer fund which provide these important extras for patients and families affected by cancer. Good luck Andrew on your Cycle across Canada challenge."
Donate here