On a grey drizzly Friday morning the last place you want to be for very long is on the tarmac at any airport, but that is where The Edinburgh Reporter was this morning.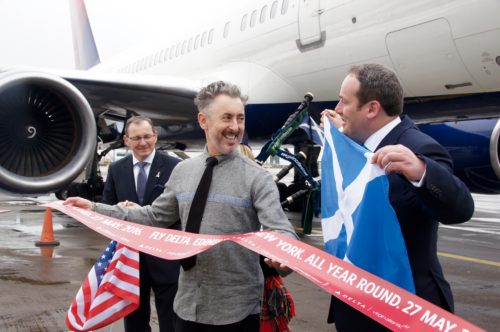 Flight DL409 left New York's JFK airport at 10.45pm local time and touched down on Scottish soil on time at 10.50am.
Scottish actor and Broadway star Alan Cumming, was among those at the gate to meet the flight and also take part in the pre-arrival festivities involving a 3D cake shaped like the world and tasting of toffee apples.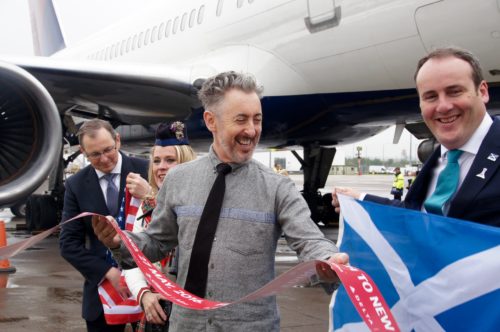 Minister for Business Paul Wheelhouse : "While I can't take credit for this, I am delighted to be here today. It's a very exciting opportunity for Scotland to have direct flights to New York, one of the world's great cities as Scotland is one of the great tourism destinations. Hopefully this is a great partnership with such popular destinations at both ends being served by Delta Air Lines.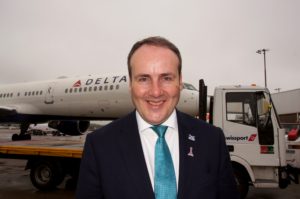 "I am very encouraged by the early signals in passenger demand for the route. The Scottish Government want to encourage direct flights, not only because it is more convenient for those who are flying but also it can be more efficient. there is a role for hub airports, but airports like Edinburgh are a great opportunity to serve markets directly and of course as Scotland becomes more directly connected to the world it is great for business and tourism."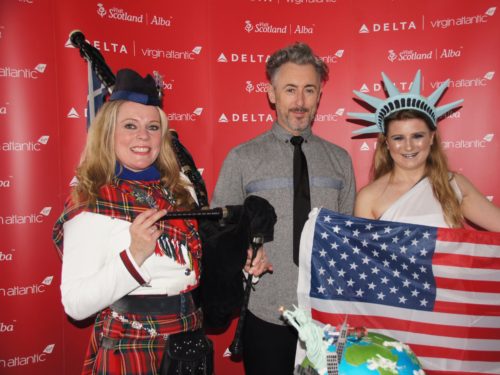 Sir John Elvidge Chair of Edinburgh Airport told The Edinburgh Reporter: "If you asked the Scottish business community the one thing that they would really like they would say a direct JFK service. So today is a really big deal in terms of giving businesses and other passengers what they want."
Delta's Edinburgh service will initially be operated using a 163-seat Boeing 757-200ER, with a larger 210-seat widebody Boeing 767-300ER during the summer months, effective June 9, 2016. From 6 September, the 757-200ER will operate on the route.