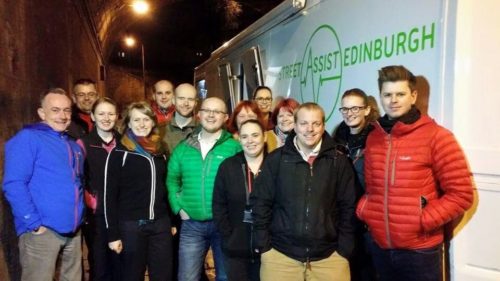 Street Assist was launched in the middle of April, and is still very much at the fledgling stage, but it has now begun a Crowdfunder campaign to buy a vehicle for their operation. So now they need your help.
This organisation is a group of over 40 volunteers who support anyone in need of support in Edinburgh's busy night time.
The Edinburgh Reporter spoke to Neil Logan about what they do:
The Edinburgh Reporter News – Street Assist from Phyllis Stephen on Vimeo.
They have a Street Triage Welfare Bus and this is being positioned on King's Stables Road between Grassmarket and Lothian Road from 8pm until 2am on Friday and Saturday evenings.
The tea, coffee, cake which is available is only a small part of their offering which aims to help those who are vulnerable for a range of reasons, from homelessness to becoming separated from friends on a night out.
They hope that their help is a contribution to safety in the city, and they would be happy if you help out with their Crowdfunder campaign or become a volunteer. You are invited to stop by and say hello!