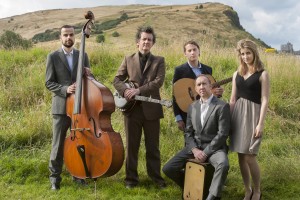 Southern Tenant Folk Union will play the Edinburgh Folk Club on Wednesday 11th May.
The Edinburgh based string band who recently featured on BBC1's  'Andrew Marr' show, have, over a series of albums  produced a thought provoking and arresting take on roots & folk music. Past winners of the 'Americana Artist Of The Year' award the band have taken their music onto BBC One TV's prime political show 'The Andrew Marr Show' plus Irish TV's world famous chat show 'The Late Late Show' as well as onto stages at prestigious festivals (Celtic Connections, Belfast Open House Festival, Orkney Folk Festival, Belladrum Festival, Electric Picnic & many more). 
They run their own record label and work independently releasing their own music. Live reviews of their concert performances have picked up on their 'tight delivery & soaring, gorgeous harmonies' saying that 'STFU are a must see live band combining a rich blend of musical talent with a high octane Appalachian style' and they perform their own brand of 'thrilling traditional musicianship'.
Through extensive touring they have seen audiences grow year on year and now consistently sell-out concert venues all over the UK and Ireland. Artistically successful their albums have been reviewed and praised in The Guardian, The Independent, The Sunday Times and The Irish Times with their latest album, their sixth, awarded 4 stars across the board and described by as 'thrilling folk-rock at its best' and 'as entertaining as it is thought provoking'.
The band toured extensively upon its release all across the UK & Ireland and now they are working on a new set of songs ahead of the next album which is due in 2016. Planned to be as political as the recent 'Chuck Norris Project', bearing in mind that Q magazine described the band as 'a folk band for the Occupy era – passionate, political and mischievous', but with a return to the style, chord forms and song shapes of their debut album. The emphasis on bluegrass, gospel and country made once more to fit in with the Seeger style protest folksongs that have followed on naturally from the Chuck Norris record. Some of this new material will be performed by the collective on these dates alongside the best of their now extensive back catalogue as they continue to tour in the manner of Willie Nelson. That is with an exciting live show that engages the audience, talks & tells stories, discusses issues, is informal and also one that displays the fully eclectic and interesting music from across the band's career to date. And like Willie they play the hits.
Edinburgh Folk club, 60 Pleasance, Edinburgh doors open 7.30pm 11 May. Tickets £10 (£9 concessions)
Photo Douglas Robertson