Heriots make it three from three for Edinburgh teams.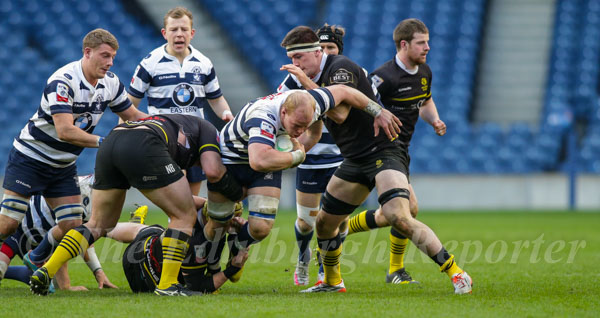 Heriots rounded off a successful Finals day for Edinburgh's rugby clubs with a hard fought victory over Borders' side Melrose.
Melrose were able to pressurise the Heriots line a few times during the match, but, despite their two tries, the 'visiting' side never really looked like losing the match.
Melrose missed a fifteenth minute penalty attempt, but came storming back from the restart to score the first try of the match in the right corner, wing Nyle Godsmark getting on the end of a grubber from Fraser Thomson. The conversion attempt went wide, but Melrose were 5-0 to the good.
The following 20-odd minutes were notable by the absence of any outstanding play as both sides struggled for dominance of possession and territory. As the half was drawing to a close, Heriots forced a penalty within kicking distance, which full back, John Semple, sent over for 5-3 with less than a minute to play, swiftly followed by a second as the clock reached the 40 minute mark, thus guaranteeing that Heriots went into the break 6-5 ahead and the crowd surely hoping for a more interesting second half.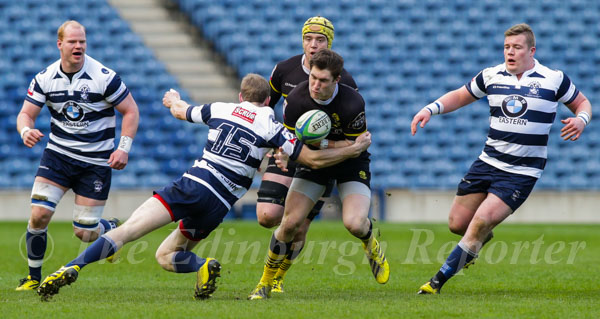 If you were a Heriots fan, then the first seven or eight minutes of the second half were very much more interesting as the Goldenacre side hammered away at the Melrose line, only fine defence from the 'home side' keeping them at bay. Slight reward came on the 48th minute mark as Semple scored his third penalty to pull out a 9-5 lead, Melrose's Jason Baggot narrowed the gap a few minutes later with a drop goal from distance for 9-8.
Almost immediately Melrose found themselves a man down as Lewis Carmichael was binned for a dangerous tackle.
Taking advantage of the extra man, Heriots went for the line and the resultant maul put Edinburgh's – and Heriots-for-the-day – Neil Cochrane through the pileup for their first try.
Just over five minutes later, Cochrane scored a second. Following up a couple of penetrating runs from Jason Hill and, getting within a couple of metres, Struan Dewar, set up the field position for Cochrane to burrow over for the try, Semple converting this time around for a 21-8 lead.
Despite coming under increasing pressure, Melrose managed to score a second try as a bit of backs' interplay put Murdo McAndrew through a huge hole in Heriots' defence for a 21-13 score line, but it was too little, too late and Heriots went on to keep the lead and win the BT Cup for the second time in three years.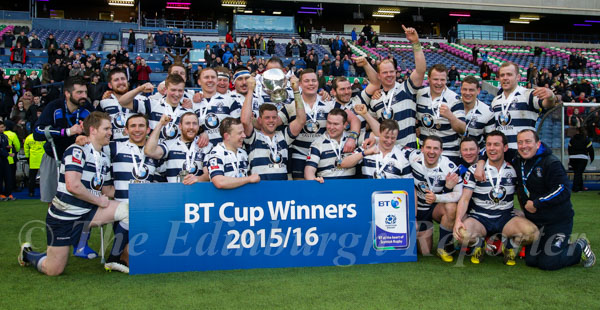 Images from the match will appear here over the next few days.