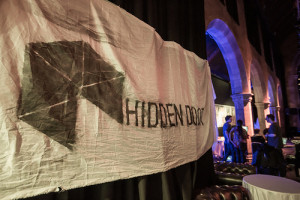 For one last time, Hidden Door will transform the site into a venue where the public can explore and discover live music events, theatre spaces, bars, a cinema, and a multitude of art exhibition areas showcasing some of Scotland's best emerging creative talent. From 27 May to 4 June, it will return to the disused street lighting depot behind King's Stables Road in Edinburgh.
Run entirely by volunteers, Hidden Door is dedicated to opening up disused spaces in Edinburgh and making them accessible to exciting creative talent based in Scotland.  They open up new space for the arts, providing a much-needed alternative platform for artists to connect with their audiences.
'Hidden Door Electric City' this year is in homage to King Stable's recent history as a street lighting depot.  It will feature 50 visual artists, 35 live music acts, 15 theatre companies, 20 poets and 12 film organisations.
Acts like Teleman, Meilyr Jones, NZCA Lines and Rival Consoles will all perform at the site as will the theatre production, Walden, by Magnetic North Theatre Company. Regarding the visual arts, Hidden Door is, for the first time, running an Invited Artists Programme, a group of projects selected from an open call for entries. The Invited Artists Programme includes recent graduates from Glasgow, Edinburgh and Dundee art colleges, and Hidden Door is giving these artists the resources to do something large scale in the dark derelict spaces. Several of these artists work with light, and will develop their projects in response to the theme of 'Electric City'.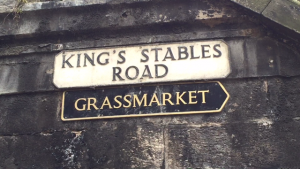 Poetry and spoken word has become a fabulous addition to the programme this year, with poets such as Rally and Broad, MacGillivray, Jamie Gordon, Nick-e Melville and Ron Butlin being added to the talent list.
It's not just the content of the festival that makes Hidden Door so interesting, but also the way the site is transformed and set up by the team of nearly 100 volunteers. Last year Hidden Door attracted over 10,000 visitors to the site over the nine days of the festival.  As David Martin, Creative Director says:
'Part of the idea of Hidden Door is to make connections between the creative communities of Edinburgh, and those of other cities and places too.  We are pleased to bring people from all over the country to the festival.  We will make it a fantastic and significant cultural event – full of life, energy and creativity.'
The full festival programme can now be seen here.