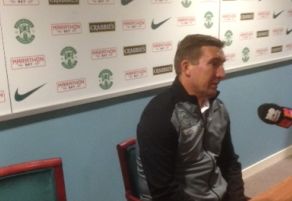 Hibs' Head Coach Alan Stubbs didn't appreciate how good Martin Boyle's winning goal was last night until he saw it on TV immediately after the game.
With the scores level at 1-1 and time running out, substitute Boyle pounced on a headed clearance from Liam Henderson's free kick and volleyed the ball into the top corner of the net from 25 yards sparking wild celebrations from the Hibs' fans in the stadium.
Up to that point, the Hibs fans had become restless and booed the players off at half time however Boyle's strike silenced the critics although Stubbs was quick to point out that he shared the supporters frustration.
After the game Stubbs said: "It happened that quick, but I have seen the goal back downstairs on TV and it's a WOW. It really is. You've just watched the 'goal of the season.'
"I haven't seen a better goal this season. If you are a young boy and you want to see technique then keep watching that because it doesn't get any better.
"If you look at the game then three points is the most important thing but we created a lot of chances. The goal we conceded was one that should have been prevented.
"You have to give Livingston a lot of credit. When you are set up to try and hit us on the counter and you do manage to score the first goal then you have something to hold onto.
"Our players have to show character and they have to show character in the big games ahead of them and this was a good test for them tonight.
"The fans have been with the team all season and in order for us to achieve what we want to achieve, I know they will be with us. Frustration is part of football on and off the pitch. I get frustrated so it's only natural that the fans get frustrated.