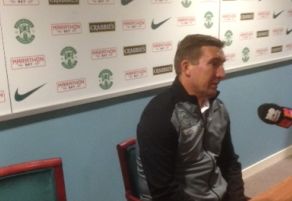 Hibs' Head Coach Alan Stubbs insisted last night's victory over Rangers has no bearing on the forthcoming Scottish Cup Final but he is happy to see his players regain the form from earlier in the season after a poor March.
Speaking immediately after the game Stubbs said:  "There was no relevance to the Scottish Cup Final at all, it's not for another month. We seem to have come through our blip now. We have had some better results, tonight being another one. We just need to keep building.
"I have said all along it is not about our form in March it is about our form going into April and May.
"There have certainly been real positive signs over the last few weeks that we are getting back to our best form again.
"It was just about three points tonight, not anything other than that.
"We're still aiming towards finishing as high as we possibly can.
"Yes, they may have gifted us goals but we'll take that all day long. They can gift us even more if they want."
Stubbs has also been linked with a move to Celtic after Norwegian Deila announced yesterday that he will be leaving at the end of the season.
When asked about the speculation, Stubbs replied: "I don't think it's a relevant question to be asking right now. I'm more inclined to answer it by saying I'm just really sorry for Ronny.
"He seems a really good guy, I have spoken to him on a few occasions. I'm disappointed for him more than anything and that is all I will say on the matter because you have to show a bit of respect.
"I have a lot of things to think about between now and May 24 that are going to keep me occupied."