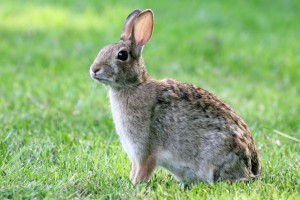 I'm told that Scotland's rabbit population is in sharp decline due to a devastating new virus. The James Hutton Institute reckons we are down to our last million.  But on Wednesday the Chancellor George Osborne came to the rescue, drawing a few new rabbits out of his hat. We've spent the rest of the week arguing over whether this is a good rabbit Budget or not.
The Scottish Finance Secretary John Swinney says Mr Osborne's continuing "austerity" will mean £1 billion less government spending in Scotland. The Conservative Scottish secretary David Mundell, on the other hand, says government spending in Scotland will go up by £650m. It all depends how Tweedledum and Tweedledee are counting the figures.
What we do know is that there's to be a new tax on our national drink, Irn Bru, and other high-sugar beverages. This is one of the big rabbits the Chancellor conjured from his hat and very welcome it is too since we are heading for an obesity crisis rather more quickly than the Chancellor is heading for a budget surplus.
He managed to find other rabbits too. He's raising the threshold for income tax, not just for all earners, but for top earners especially and we're waiting to see what the SNP propose to do about that.  He's cutting corporation tax and capital gains tax and the taxes on North Sea oil and gas. And he's handing out money for a city-deal for Edinburgh and Inverness, and a wee £5m for Dundee's new waterfront museum.  (Glasgow already has a city deal.)
But there's no getting away from "austerity". Local council budgets are being cut by 5 per cent or 1 per cent, depending whose version of events you prefer.  College lecturers are on strike, as I write, over a 1 per cent pay offer – and differences in pay between colleges.  Unemployment is up again this month to 6.1 per cent, partly caused by the slump in the oil industry, and partly – in my view – because of government cuts.  And poor old Britain as a whole has dropped to 23rd place in the UN's world rankings for "happiness."
One shocking aspect of our unhappiness is teenage angst. A report by researchers at St Andrews University found that out of the 42 countries studied,Scottish youngsters had some of the highest levels of poor health, inequality and anxiety. In particular it pointed to a high level of school-related stress among 15 year old girls. And there are lifestyle worries too. Half the girls and a quarter of the boys interviewed were concerned about being overweight and not taking enough exercise. A third of 15 year olds admitted drinking alcohol.  It doesn't look like Scotland will be scoring well in the UN's happiness stakes in the foreseeable future.
We've not to worry, though, because the Scottish Parliament is striding towards reform. MSPs agreed the new devolution settlement being brought in by the post-referendum Smith Commission.  It means from next year Scotland will have control over the rates and bands of income tax (but not the basic personal allowance) and the parts the welfare system which can be administered by local councils.  MSPs also approved the latest round of land reform which gives more protection to tenant farmers and imposes local taxes on sporting estates.
But all this talk of constitutional reform and government spending and taxation all paled into insignificance for me when I read of the tragedy which struck one family from Fife last Saturday.   Twin boys, Rhys and Shaun Scott, aged two, died when they fell into a fish tank while playing at their home in Dalgety Bay.  Their distraught parents issued a statement thanking everyone who tried to save "our miracle babies."
Both boys were "long awaited little soldiers," they said, "who were full of love, happiness, fun and cheek.  They have touched the lives of everyone they met."
Even at this distance, I feel their loss. We are indeed a less happy country than we were just seven days ago.