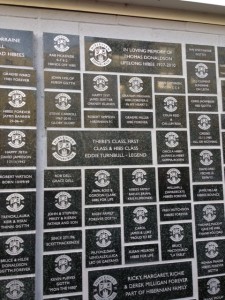 Hibs' fan Grant Stott has chosen to have his East Terrace Stone dedicated in memory of his grandfather, who grew up in the shadow of Easter Road on Bothwell Street.
The broadcaster, presenter and pantomime actor is fully supportive of the East Terrace Stones and he believes it is a lovely idea to remember the Hibernian supporters who are sadly no longer with us.
The second phase of the East Terrace Stones have been installed, and the green granite stones are still proving to be popular with our supporters.
Some supporters choose to have their message as a commemoration of a famous victory, to celebrate iconic players, or in memory of a loved one, to name just a few of the wordings chiselled into the stones that now grace the wall of Easter Road Stadium.
Grant said: "It's lovely. It's so nice to remember, in my case, my grandfather. Although he died many years ago, in 1975, he is still very much with us.
"My dad and I still go to the football, as he did with his dad. To do this almost in view of where he was brought up, this is where the Hibs story began in our family, so it's lovely to do this. It's lovely to have him still in our thoughts."
East Terrace Stones remain on sale and with approximately 300 available supporters who are interested are advised to purchase quickly, and become part of the fabric of Easter Road Stadium – forever.
Supporters can purchase online or by calling Brett McGoldrick on 0131 656 7079. Upon confirmation of booking each customer will receiving a confirmation letter and certificate.