Business at Abbeyhill Electrical Services Limited has soared by a staggering 138% when comparing November 2015 to February 2016.
Brothers Kenny and Chris Cummings took over the company in November acquiring the Select registered electrical contracting company on November 14th at a point when Abbeyhill Electrical Services required some drastic attention.
Kenny Cummings took a gamble leaving the oil industry after obtaining a first class masters degree in Chemical Engineering to pursue his dreams of running his own company.
Seeing huge potential in Abbeyhill Electrical Services, Kenny identified a great opportunity to save many years of building up a reputable company when he and his brother bought out a 26-year-old recognised brand.
Chris comes from an electrical background, and has experience ranging from offshore oilrig electrical installations and maintenance to huge retail projects.
When Chris who is now the Technical Director, approached Kenny about the potential takeover, Kenny was quick to take up the potential opportunity and the deal was completed within a matter of weeks.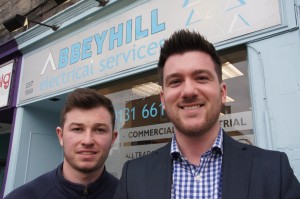 A number of changes have been made since the brothers took over, with a rebranding one of the first things to get attention.
Kenny took over as Director, and in doing so he quickly adopted a new approach regarding the service being provided to customers.
Kenny said: "The business was dated and had no real direction so this provided us  with a range of avenues to explore. The office facilities were immediately revamped to provide a more welcoming experience for visiting customers.
"The longest serving member of staff at the company with over 15 years served, Susan Glendinning, appears delighted with the changes and says that she looks forward to many more working years at Abbeyhill Electrical Services."
Kenny and Chris have built up a huge network despite their relatively short careers to date which has led to high profile contracts being awarded to their new business from big names such as Tesco plc.
Kenny has overseas experience from his days with the oil and gas industry, and has brought with him a very strict safety mindset, now adopted by all staff at the company. This ensures that all clients are aware of the risks posed while carrying out works and the assurance that the risks have been mitigated or minimsed to an acceptable level.
Going forward, Kenny and Chris aim to grow the company organically by talking on more complex projects with more high profile clients. Growth prospects also include expanding into other regions and they are looking at expanding into other trade sectors.
Kenny explained: "The company is now well-positioned and we feel that we are more than ready to expand in the commercial and industrial sectors."
It is evident that the gamble has paid off for the pair thus far, even though working 80 hour weeks have become the norm for both of them.  They hope this may reduce once the drastic transformation of the business is complete!
A bright future seems assured for Kenny and Chris and their staff!