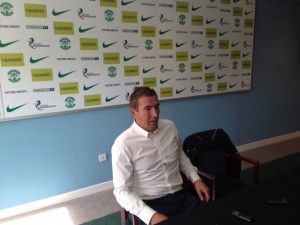 Alan Stubbs says that all of the Hibs' players care about playing for the jersey and believes that the squad can take confidence from their previous performances against top-flight opposition as they prepare to take on Inverness Caledonian Thistle tonight.
In particular he paid tribute to Liam Fontaine whose mistake in the last minute of the Scottish League Cup final on Sunday after the big defender took to social media to apologise to supporters.
A victory over John Hughes' side will mean another trip back to Hampden for the William Hill Scottish Cup Semi Final against Dundee United although the Head Coach anticipates a tough game.
Speaking to Hibs TV he said: "Obviously Sunday was a huge blow for us and we were disappointed as a group of players and staff and fan. we felt as if we performed on the day but unfortunately the result wasn't what we wanted it to be.
"It wasn't for the want of trying but that's how finals can go.
"The lads were down after the game as you would expect. We had a brief five minute chat with all the staff and players about what's still achievable this season.
"We have got to a major final and we have got an opportunity to get promoted and an opportunity to get into the semi final of the Scottish cup.
"When you look at that you have to be careful that you are not too hard on yourself and it's still all to play for.
"One of the first things when I came here was that I had fans speak to me about players who didn't care for the club and loan players who didn't want to be here. . I think over the time we have certainly addressed that. I read Fonts' (Liam Fontaine) message and to me it had class written all over it. It was a measure of the man that I know.
"With us here, we win as a team and we lose as a team and there has been lots of situations throughout the season where individuals have made contribution to winning games of football.
"Unfortunately on Sunday we saw the cruel side of football but nothing has change for me. I still respect Fonts 100%, firstly as a man and secondly as a professional sportsman.
"The players did fantastic to reach the final and on another day they could easily have won the game. they performed on the day in front of our unbelievable support.
"Everyone I have spoken to have said that we were the better team. I thought we just edged it but that doesn't win the cup.
"We can take confidence that whenever we've played a Premiership team, we have always performed well and we need to do that again tonight. If we do, then we have an opportunity to progress in the Scottish Cup and into the Semi Finals against Dundee United if we can come through this tie.
"I think it will be a very tough game. They are a good team. They have some very good individual players and have pace in the team with strength. they have some powerful players as well. Yogi (John Hughes) has a good blend there.