All this cold wet weather requires a little something to warm the cockles – and on a particularly dreich evening that little something came in the form of a very welcome meal from Voujon. Located in Newington, the restaurant is well within reach from any point in the city, offering up flavours from Bangladesh and Northern India.
We received a warm welcome and there was no loitering as we were whisked off to our table. It's a small place – the interior is very modern, with white linen table cloths and elegant orchids adding a sophisticated edge – but this is curiously incongruent with the restaurant's exterior. It is really hard to see in from outside!
The wine menu has a tasty selection however those looking to go by the glass will be disappointed as only the house wines (Chardonnay and Merlot) are offered along with one each from the white and red list – I opted for the Sauvignon Blanc, sticking to my comfort zone on this occasion. It was a clean and easy wine which went down well enough with the meal but it lacked the zesty punch I was looking for. My dining partner went for the Cobra – a winner as always.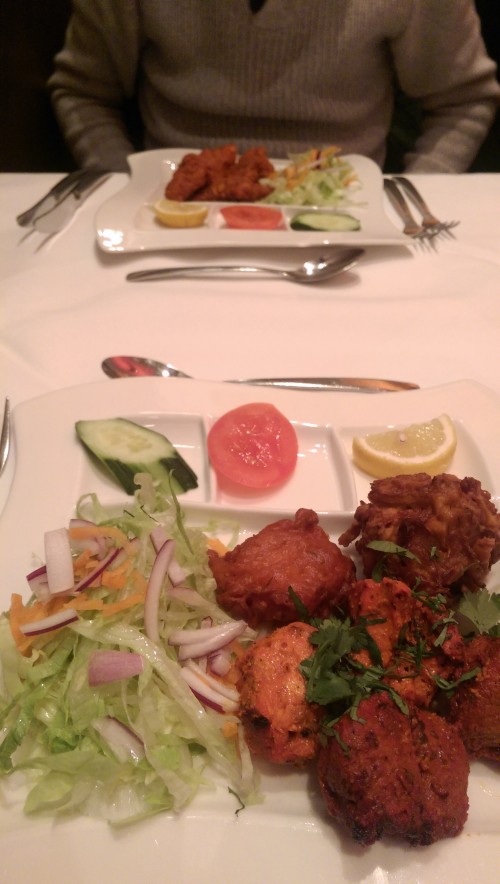 For starters I had the assorted kebabs which included nice whole chunks of tandoori lamb, chicken and white fish in a delicate, crispy batter – not a drop of excess oil anywhere. A 'special sauce' accompanied the dish which was light and refreshing, complimenting three very different meats excellently. The meat itself was incredibly tasty and fresh – clearly it had been marinated for a good while before cooking. The lamb was particularly good – not at all fatty but clean and tender. Fresh lettuce and a squeeze of lemon helped a treat too. The other half of our duo ordered the chicken pakora and was thoroughly pleased.
For the main event I went for the Lamb Karachi which came in a stylish white bowl topped with a dried chilli and fresh coriander. It was a bit too hot for my taste (normally a bhuna or korma is enough for me) but the flavour was good and it would satisfy fans of tomato-based curries with a kick. The lamb was a tad on the salty side, but it did not spoil the dish. My partner went for the jaipuri chicken and it was the winner of the night, hands down. Tangy and sweet whilst savoury, it was very moreish right down the delicious mushrooms. It was a very well balanced dish, and both our mains were supported by a gorgeous peshwari naan bread and pilau rice. The nan was perfection – elastic and light whilst crispy round the edges and (thank goodness) not stuffed full of gooey jam but real shredded coconut – just enough to taste.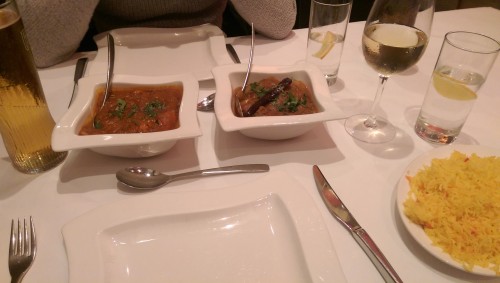 Dessert unfortunately let us down on what would have otherwise been a home-run for Voujon. We shared a coconut supreme; coconut ice-cream in a half shell which we selected from a generic menu which was not created by the kitchen but instead featured the usual bought-in sweets. The first bite was akin to tucking in to a tub of coconut body butter – the texture and perfume overwhelmingly synthetic.
Whilst it would be nice to see the chefs take over the dessert menu with the same flair as the main menu, the meal was thoroughly enjoyable and we would go back. Average prices: starter £5, main £10.