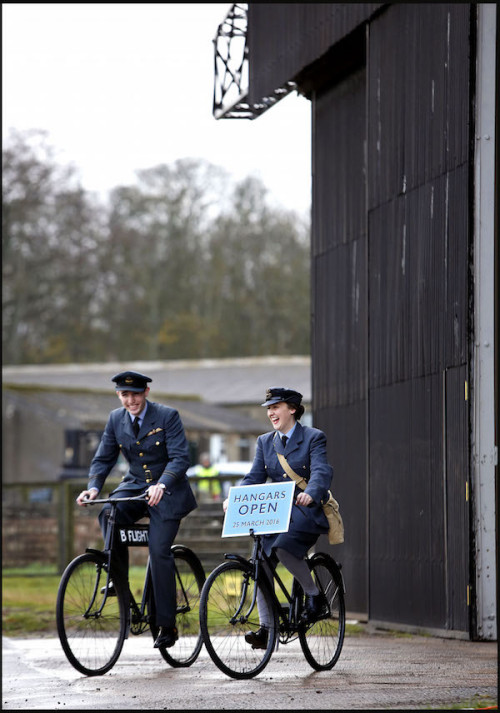 Two of the National Museum of Flight's aircraft hangars have undergone £3.6 million worth of refurbishment and National Museums Scotland today announced that they will be reopened to the public in the Spring.
The nationally significant Second World War hangars at the East Lothian attraction will re-open on Good Friday 25 March 2016, offering an exciting new experience for visitors of all ages as the Easter holiday period begins.
Built in 1940-41, they are part of the East Fortune Airfield Scheduled Monument and are imposing features at the atmospheric former wartime airfield. On completion of their restoration, the hangars will house an array of world-class military and commercial aircraft engagingly presented through interactives and film programmes.  The stories of those who piloted or flew in the aircraft will also be told through thought-provoking displays featuring uniforms, documents and photographs.
One hangar will display military aircraft, including an English Electric Lightning, the RAF's first supersonic jet fighter, which could match the speed of Concorde, and the other will display smaller commercial and leisure aircraft dating from 1969 onwards including a Britten Norman Islander and a Scottish Aviation Twin Pioneer. The hangars will be insulated and heated for the first time using an environmentally friendly ground-source heating system.
Funding for the redevelopment includes a £1.3 million grant from the Heritage Lottery Fund and £1.8 million from the Scottish Government.
Steve McLean, General Manager, National Museum of Flight said:
"The National Museum of Flight is already one of Europe's major aviation museums.  The transformation of these two Second World War hangars has enabled us to create modern displays and imaginative interactives to create a hugely engaging experience for our visitors and to tell the personal stories that lie behind the objects and aircraft in our care. We're greatly looking forward to unveiling them next Easter."
For further information on the National Museum of Flight, including directions and admission charges, visit www.nms.ac.uk.
Ailidh Barnes and Euan Taylor from 638 Squadron Living History Group posed in the photos.