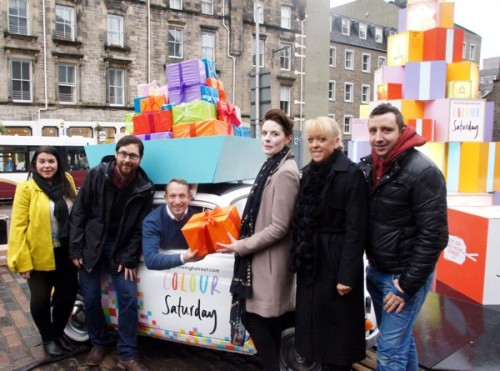 This Saturday NotontheHighStreet (NOTH) will bring the Grassmarket alive with colour with a five metre high interactive Christmas tree as part of Colour Saturday.
The tree showcases a selection of products and stories from partners of  NOTH from Edinburgh and across Scotland.
At the photo call this morning the following businesses were featured:
Lynsay O'Connor of Skinny Malink. She runs a bespoke wedding stationery business.
Mandy Bailey of Plant and Grow. She designs and create a range of growing kits and planters which offer a fresh solution for urban growers.
Michael Rankin of Wudwerx. He creates wildlife houses. His aim behind starting his business was to be able to spend more time with his son.
Belinda Roberts of Marvellous Mustard. She is the only global producer of mustard making kits and port and rum flavoured mustard.
Allistair Burt of Hole in my pocket and Eat Haggis.
 The Edinburgh Reporter spoke to Simon Belsham CEO of the company which seeks to connect the best creative small businesses in the work to find out how they do exactly that:
The Edinburgh Reporter News from Phyllis Stephen on Vimeo.