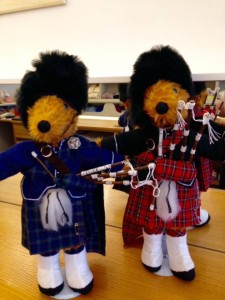 Are you looking for something special this Christmas? Something hand-made by an expert knitter, baker, sewer or craftsperson? And would you like to know that your purchases are helping not just someone, but the very person who made the gift?
The Treasure Trove in Castle Street has a wonderful selection of adults' and children's clothes – including cardigans, Arran jumpers, gloves, hand-smocked baby dresses, baby knitwear, and beautiful tartan dresses. There are very well-priced quilts, soft toys, padded coat hangars, and lovely hats for all ages, jewellery, some glass work and cards.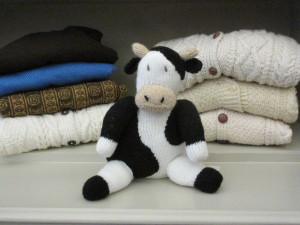 Each maker is a member of The Self Aid Society* who, for various reasons including age, ill-health, disability or financial hardship, may be in need.  The support that The Society is able to provide and the sale of their products through the Treasure Trove form an important part of many of their lives.
The Society is careful that only those whose produce is of the highest quality can become a member. In this way, its customers can be assured that their purchases will be uniquely handcrafted to the highest possible standards – and for a very reasonable price! Tartan pinafores start at just £16 – try finding one for that price anywhere else – and there are also tiny tartan waistcoats and trousers.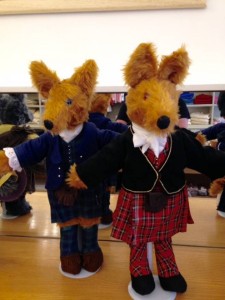 And look at these stunning wolves (and the piping teddies at the top of the page);
The Self Aid Society takes only 10% of the ticket price from each sale – that means the maker receives 90% (or, for £16 dress, £14.40).
The Treasure Trove also sells a wonderful selection of home-made jams and preserves – I tried their rhubarb and ginger jam and I can honestly say, as a jam addict, that it's one of the best I've tasted (£1.85 a jar). Home baking is available most days – shortbread, cakes, biscuits, and at the moment also some mouthwatering chocolates packaged in special boxes.
The Treasure Trove is at 23a Castle Street (a few seconds walk from Princes Street) and it is open 9.30am-4.45pm Monday to Thursday, 9.30am-4.15pm Friday and Saturday.
*The Royal Edinburgh Repository and Self Aid Society is unique; it was formed by an amalgamation (made in 1977) of two societies, the Repository for the Sale of Gentlewomen's Work (1882) and the Self Aid for Gentlewomen (1893) – these days, of course, its makers include men as well as women!