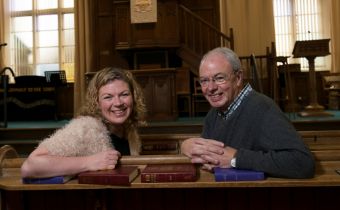 The Church of Scotland is welcoming its largest number of trainee ministers in 5 years as it launches its new careers website www.tomorrowscalling.org. 
It is estimated that hundreds of parish ministers will reach retirement age in the next decade. 
So far, the Kirk has accepted 27 new candidates for training this year, and with further applicants due for assessment next month, it could be the largest intake for ten years.
The Tomorrow's Calling campaign to promote training for parish ministry was launched at the General Assembly in May. A range of videos about parish ministry have been positively received and the new dedicated careers website is the latest stage of the campaign. The site is designed to inspire and inform potential applicants for the ministerial training programme. It features practical information about the various steps involved in training, helps individuals to start exploring their calling to serve God and provides many first-hand accounts from a parish ministers and chaplains about life and work in ministry.
"We're no different to other professions facing up to retirement challenges, like GPs and teaching," says Rev Neil Glover, who at a youthful 43 years of age is the Convener of the Church's Ministries Council.
"The Church has been slow toget to get to grips with the scale of the problem but now it is a top priority. We currently have just over 800 ministers, and more than 400 of them are aged 55 or over. Ministers tend to work a bit beyond the normal pension age, but we now need to recruit 30 new trainees every year. With around 10 ministers usually returning to parish ministry or joining us each year, then we will be able to continue serving our parishes."
Louise Purden and her father Rev John McPake are at the opposite ends of ministry. Louise, who is 39, has just been accepted as a trainee while her dad, at the age of 67, has come out of retirement to work part time as an associate minister at Edinburgh's Gorgie Dalry Parish Church.
Ms Purden said she had never come under any pressure from her father to follow in his footsteps but she recently started feeling "butterflies in her tummy" the more she thought about becoming a minister herself.
"I have worked for the church for many years doing various things – youth and children's work – and people have often said to me in the past 'have you ever thought about being a minister to which I very quickly replied no, it is not for me'.
"I guess I have become more aware of the roles that ministers can have and how much the Church has enhanced my life and my family life and I want that for my children as well so I am looking forward to it.
"For me one of the most appealing things is being part of a community and doing everything you can to be Jesus and show God's light there.
"I really believe in the national church and think we have an opportunity to be a voice in society as well as in a parish."
Ms Purden is married to Richard with whom she has two children, Ryan, 4, and Christina, 3.
Her father, John, entered ministry at Edinburgh's Liberton Northfield in his mid-40s after a career with BT. He said he was "very encouraged and pleased" with his daughter's decision.
"In a way I am not surprised but I never asked her if she was interested in becoming a minister. I just felt that if it was right, God would lead her forward in that direction."
Mr McPake, 67, said the best piece of advice he could give to his daughter is "be yourself" because she is a very warm person and already a great communicator.
Reflecting on whether 39 is too old to train for the ministry, he said: "You bring your life experiences to your position as minister.
"I do not look at my life and think I wish I had done it earlier.
"I am glad I did it when I did and believe that what I brought into ministry, these experiences, helped me to be the minister that I am."
Reflecting on the situation many of his fellow ministers are finding themselves in as they approach retirement age, Mr McPake said:"I retired officially at the end of 2013 and then I was invited by Gorgie Dalry Church to come back as associate minister with them and I am really enjoying that.
"I cannot wait to preach every Sunday, that is one of the reasons I couldn't retire, I didn't want to stop talking about Jesus.
"It's also exciting to be involved in new kinds of community work, like the Saltyard café the Church runs in Dalry.
"There's so much going on and it's great to see the Church trying new ways of connecting with people through the week. It's not just about Sundays."
Since the Church launched its 'Tomorrow's Calling' campaign at May's General Assembly, a series of promotional films about parish ministry have been viewed over 100,000 times on social media.
The success led to the idea of ministers turning movie makers for the online Advent calendar, and more than 3,000 people have already signed up to receive the daily videos.
More than 50,000 have watched the promotional video on the Church's website and Facebook page.
"Tomorrow's Calling has certainly generated lots of interest," says Rev Neil Glover.
"Everyone experiences their calling to ministry differently and many put it off for one reason or another. What we are saying now is come and talk to us, find out if ministry is right for you.
"It's an immensely rewarding role, which has its challenges but also changes lives and makes a real difference in communities across Scotland and beyond."