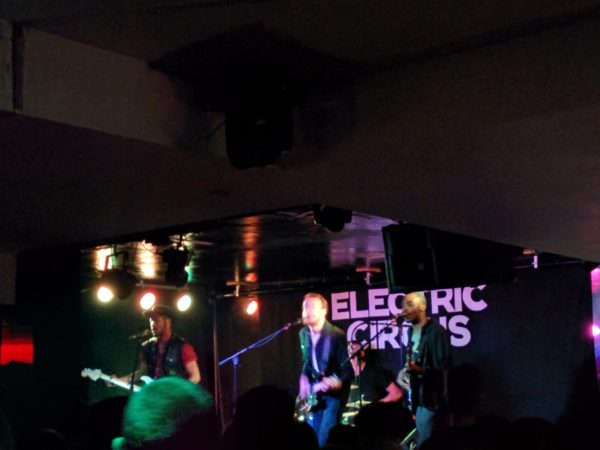 It's encouraging to see a band play from the heart, more precisely an indie rock band that doesn't want to be analysed and branded as an obscure indie rock genre. Frontman Dominic McGuinness does, however, seem to be in a bit tangle about the band's sonic layout in interviews ("It comes from the guts and is not meant to be dissected and understood"), and that somehow mirrors in his struggle to be a charismatic stage leader.
As they arrive on stage, McGuinness introduces himself as if Kasabian's Tom Meighan is about to start a festival set. Of course he has a burgeoning ego and that is permitted, but certainly not warranted at Bohicas level. The energy is unparalleled to a Kasabian show, but the thrashing of several indie rock n'roll numbers certainly gets the crowd bopping minimally.
'Where You At' has that mid-Noughties indie hit attachment to it, while the sprinting drum beat of 'XXX' has rather uncanny comparisons to a selection of tracks from Glasgow band Casual Sex. 'Red Raw' has an early Seattle grunge connection it, while 'Swarm' and 'Upside Down' are as frenetic and intense as indie can get.
For the three-quarters of an hour that the band plays, which allows them more or less to play their entire debut album, there is very little variation to be witnessed during their set. Perhaps that's why several audience members were talking during songs. They appeared a little bored by the monotone, drowned out vocals of McGuinness and reused guitar tones that make everything sound as if nothing has changed. By the end of their set, the frontman in question is counting down how many songs there are left from the third-last, as if he's eager to leave. Only a bit of  banter with the crowd masked that.
Yet the rest of the band, particularly guitarist Dominic John and bassist Ady Acolatse, provide a satisfying chemistry that can only derive from their impeccable live performance. The vocal harmonies shared and diced between Dom and Ady are delightful, whereas the drumming from Brendan Heaney never misses a mark.
The Bohicas sound like a modern-day Kinks with moments of Beatles, which is too generous a compliment to give to a band presenting a full show of some tediousness. The song 'Helter Skelter' defines perhaps what their musical journey will be.