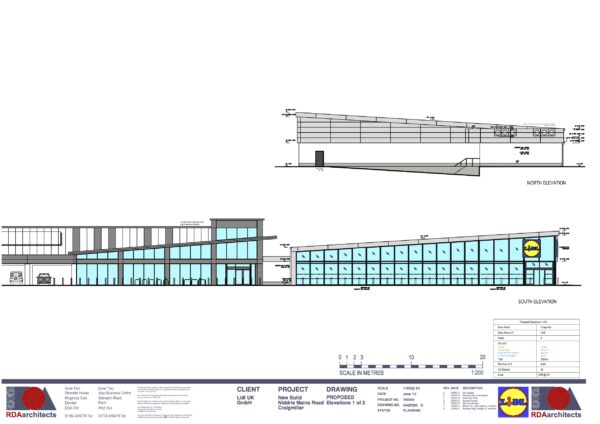 Grocer of the Year, Lidl, submits detailed application for new concept store as part of Craigmillar's town centre regeneration
The EDI Group Ltd has announced today that a detailed planning application has been lodged by 2015 Grocer of the Year, Lidl, for a replacement store on Niddrie Mains Road. The proposed new store would signal a £3million investment by the retailer in the area and follows the announcement that the larger outline consent for the regeneration of the Craigmillar Town Centre was achieved in September.
The proposal for a larger concept store is part of EDI Group's ongoing redevelopment of the wider Craigmillar area and signals the first part of the latest Craigmillar Town Centre regeneration projects. The plans are the latest investment in Edinburgh city by Lidl, which over the last 12 months has completed modernisation projects in Granton, Nicolson Street and Wester Hailes.
Lidl first opened its doors in Craigmillar in 1999 and has continued to expand its offering ever since. The new site location will allow for a larger store with a 1,424 sqm sales area, a 43% increase on the existing store. Built to a modern, high quality design, the new store will be based on Lidl's latest specification and will boast an instore bakery, extensive fresh fruit and vegetable offerings, dedicated customer toilets and parking spaces. The refurbishment is part of an ambitious investment program by the company in Edinburgh which has also recently lodged an updated, larger proposal for its site on Easter Road.
Infrastructure works are currently underway by EDI Group at Craigmillar to enable Lidl to start on site early next year, subject to planning being granted. Over the next two years the town centre redevelopment initiative will create a new retail centre and public square. This will be complimented by up to 335 homes and the site reserved for a new secondary school. The town centre development is expected to take around six years and is part of a wider regeneration works, which includes up to 2,000 new homes.
Mark Harris, Head of Regeneration at EDI Group, said: "We want a modern fit-for-purpose retail hub that will strengthen the town centre and service the needs of the local community for years to come. The news that Lidl has lodged a detailed planning application for the new concept store is a key milestone for the regeneration of Craigmillar."
Cameron Hall, Senior Consultant – Acquisitions at Lidl, said: "The feedback from the local community at the recent Public Consultation for the outline consent was overwhelmingly positive. Our latest new store specification provides customers with a fantastic shopping experience, something we hope to bring to the local community in Craigmillar".