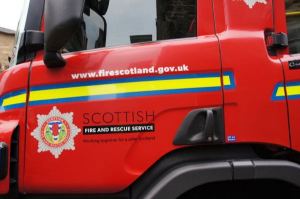 Firefighters responded to an incident yesterday where an 11-year-old boy had become trapped on an island due to fast flowing water as a result of a recent storm.
Crews were called by Edinburgh's operations control at 3.43pm yesterday to respond to the incident at the River Almond at Livingston.
The specialist water rescue team from Bathgate attended and were supported by crews from Livingston. Firefighters in dry suits rescued the young boy using a ladder and assisted him to the riverbank.
Thankfully he was uninjured and was checked over at the scene by paramedics.