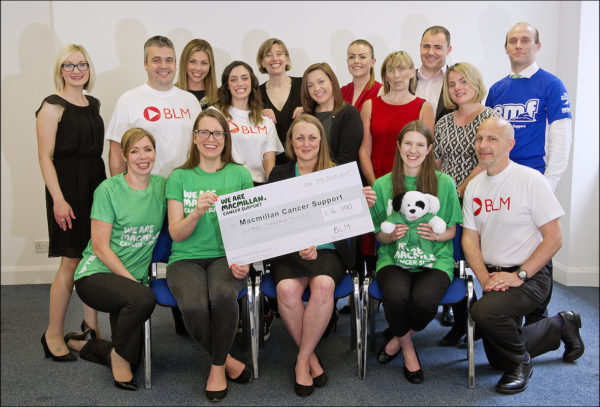 Staff from the Edinburgh and Glasgow offices of a firm of lawyers have raised a staggering £16,000 for Macmillan Cancer Support by participating in the recent Edinburgh Marathon Festival (EMF).  BLM's marathon fundraising effort was the biggest team donation for the charity from this year's EMF.
The BLM colleagues formed five relay teams to complete the 26.2 mile course while two additional BLM runners – Katie Anderson and Jamie Varney – ran the whole marathon.  Representatives from the litigation, family law, IT and administrations departments ran to raise funds for BLM's charity partner.  The donation represents £8,000 raised by the runners that was then matched by BLM in accordance with its partnership.
Staff from BLM, the UK and Ireland's leading risk and insurance law business, voted for Macmillan Cancer Support to be the firm's charity partner and official fundraising commenced in January 2014.  Since then the firm has raised more than £60,000 for Macmillan to improve the lives of everyone living with cancer.
Siobhan Kelly, BLM partner and the firm's CSR partner in Scotland, explained:  "BLM is immensely proud of its fundraising partnership with Macmillan Cancer Support as so many of our staff, customers and contacts have some experience or connection to those living with cancer.
"The team in Scotland was determined to participate in a fundraising challenge that would involve a number of us and the marathon was perfect as it allowed us to train together and fundraise together.  The Marathon was our way to be companions to those affected by the cancer journey and everyone involved did a tremendous job."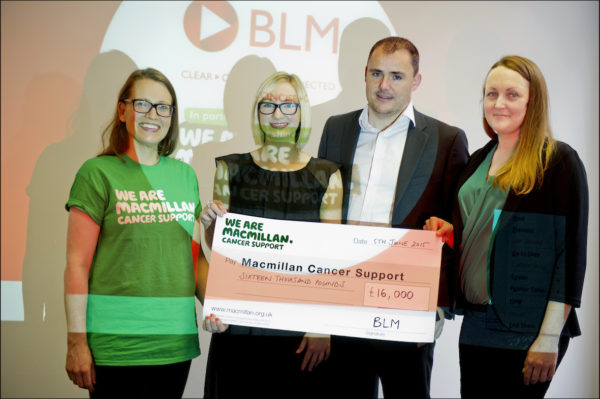 Emma Connor, Macmillan's Fundraising Manager for Greater Glasgow, said: "We want to make sure no one has to face cancer alone but we couldn't do it without the amazing people who fundraise for us.
"We are very grateful to everyone at BLM who ran the Edinburgh marathon and raised a massive £16,000 for Macmillan. This was the biggest team donation for the event this year.
"As a charity we rely almost entirely on money donated to us by the public so their help is very much appreciated.
"I hope they inspire people to follow their example and take on their own fundraising challenge to help us fund our vital services."