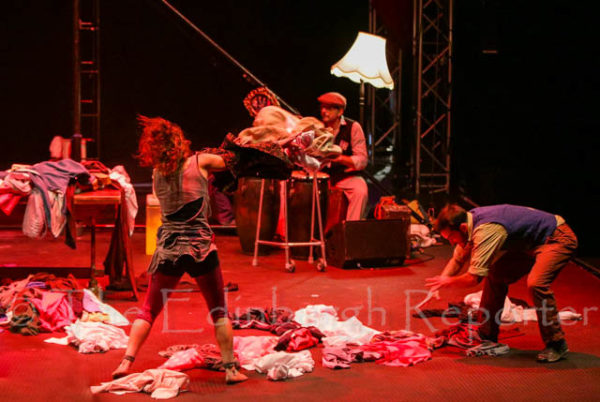 With the weather cooperating for the last few days, The Lafayette tent at The Circus Hub in the Meadows was finally ready to welcome the opening performances for this year's Edinburgh Festival Fringe.
First to take the stage were The Hogwallops, a UK based contemporary circus company with their housework-themed family show……
Baking, washing, bananas and zimmer frames all featured in the show, 'padded out' with a tremendous assortment of both floor and aerial based acrobatics, juggling, theatre and humour, all aided and abetted by a mix of a live – from the third female member of the group – and recorded soundtrack.
With a fairly quiet start to lead the audience into a false sense of security, the three men and two women went on to performed an almost non-stop routine which, at times, appeared to defy gravity. About the only 'acrobatic company formula' they stuck with was when there were injury-defying things to do, it tended to be the female members who did the defying….
The whole performance was a good blend of quiet humour and heart-in-mouth action which kept the audience well entertained for the entire hour.
The show is on at 11:25am from now until the 29th August (not the 17th or 24th) in The Lafayette. Tickets are priced from £9.00 and are available from the on-site booking office or from here.