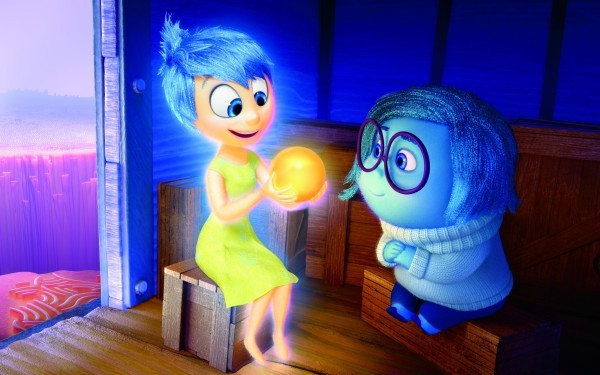 The Edinburgh International Film Festival has a proud tradition of showcasing films from around the world, from short films to future blockbuster; literally every taste is catered for. It has also become a favourite forum to premiere new films. Disney Pixar chose the EIFF to premiere its latest family film, "Inside Out."
Disney Pixar are master animators, with a technical brilliance unmatched in the genre. But technical brilliance doesn't make a memorable movie on its own. Pixar are also masters at creating characters and playing on the heartstrings. The virtuosos of sentiment do have a tendency to anthropomorphise everything, and I do mean everything. The short film "Lava" turns a volcano into a sympathetic character. You have to admire their skill when an animation about an inanimate lump of rock can bring a tear to the eye.
"Inside Out" carries on in the true Pixar tradition of being a crowd pleaser, a family film that will keep the children enthralled and the adults chuckling at the jokes that are clearly not intended for the youngsters. It is ably directed by Pete Docter and includes a quality cast of comedy actors including Amy Poehler and Bill Hader. The plot revolves around a nuclear, all -American family: Mom, Dad and hockey playing tweenie Riley. So far, so clichéd. But Pixar give us a unique take on the how the family tick by setting much of the action in 'Headquarters' i.e. the minds of the characters.
The idea of our consciousness being run by little people in our head is not new. But in this case the little people are our feelings. Yes, in the world of Disney even our feelings have feelings. Cue the appearance of characters including Anger, Sadness and our heroine, Joy. The film explores how our feelings affect our personalities and behaviours, and how our memories are fundamental to who we are as individuals. The feelings all have their part to play, but it is Joy and Sadness who set out on a heroic quest to save the day and restore harmony to our family.
The script crackles with witty one-liners. There are enough laugh out loud moments to keep the pace rollicking along, as well as the 'I have something in my eye' moments when sentiment abounds. "Inside Out" is an emotional rollercoaster indeed, but is presented with enough sharp wit to prevent it becoming saccharine or overly sentimental. Visually it is a masterclass in animation, with everything from fantastical vistas to emotive facial expressions wonderfully executed.
This film will not change your life, but it will bond families in a feel-good film for all, and there is a lot to be said for that.