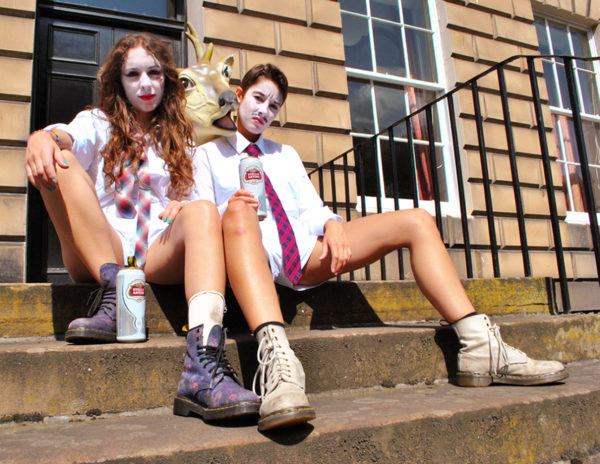 Total Theatre and Arches Brick Award winners and Amnesty Internation Freedom of Expression Award nominees Sh!t Theatre return to this year's Fringe with a new show all about women – that was commissioned by a man.
Now that gender inequality has been solved, they thought they might write a show about how great Dolly Parton is but Brian Logan of Camden People's Theatre commissioned Louise Mothersole and Becca Biscuit to write a show about feminism for the Calm Down Dear Festival. Women's Hour is all the things they could do or say about women in sixty minutes.
Women's Hour is a show of giddy, freewheeling silliness about what happens when women are given just one hour a day to think about what it is to be a WOMAN. Feminist theatre for all genders.
Previous Sh!t Theatre shows have explored the benefit system (in Job Seekers Anonymous 2013) and the pharmaceutical industry (in Guinea Pigs on Trial), but Women's Hour departs in form from these journalistic pieces. Women's Hour is a mix of satire, song, clowning, movement and mess more akin to cabaret or sketch comedy. It is a mix of newly written sections and verbatim text taken from advertising, news media and pop culture.
It is constantly rewritten in response to current affairs. There's loads of new sh!t happening to women all the time.
Sh!t Theatre are Louise Mothersole and Rebecca Biscuit. They are Associate Artists at Camden People's Theatre. They have been advised many times by theatre professionals to change their name although their publicist tells us he'd leave them if they did. To make their shows affordable for un(der)waged people ticket prices are kept intentionally low (£6).
This show is very charming but it is really not suitable for children.
Women's Hour
Summerhall, Anatomy Lecture Theatre Venue 26
5, 7, 9-10, 12, 14, 16-17, 19, 21, 23-24, 26, 28, 30 Aug (each Sun, Mon, Weds, Fri) 2pm
Submitted by Martin Mouth